7 Gorgeous Ways to Incorporate Nature into Your Home
Nature has always been a huge inspiration for me. It's the core essence of who we are as living beings on this planet. Every time I connect with nature, I am reminded of who I truly am and what is truly important in life - this is something I always work to convey in my paintings. Nature is one of the most beautiful, healing parts of our planet. It is a reminder that life is happening exactly as it's supposed to. It always grounds me to who I am at my core as a living being on this planet. ​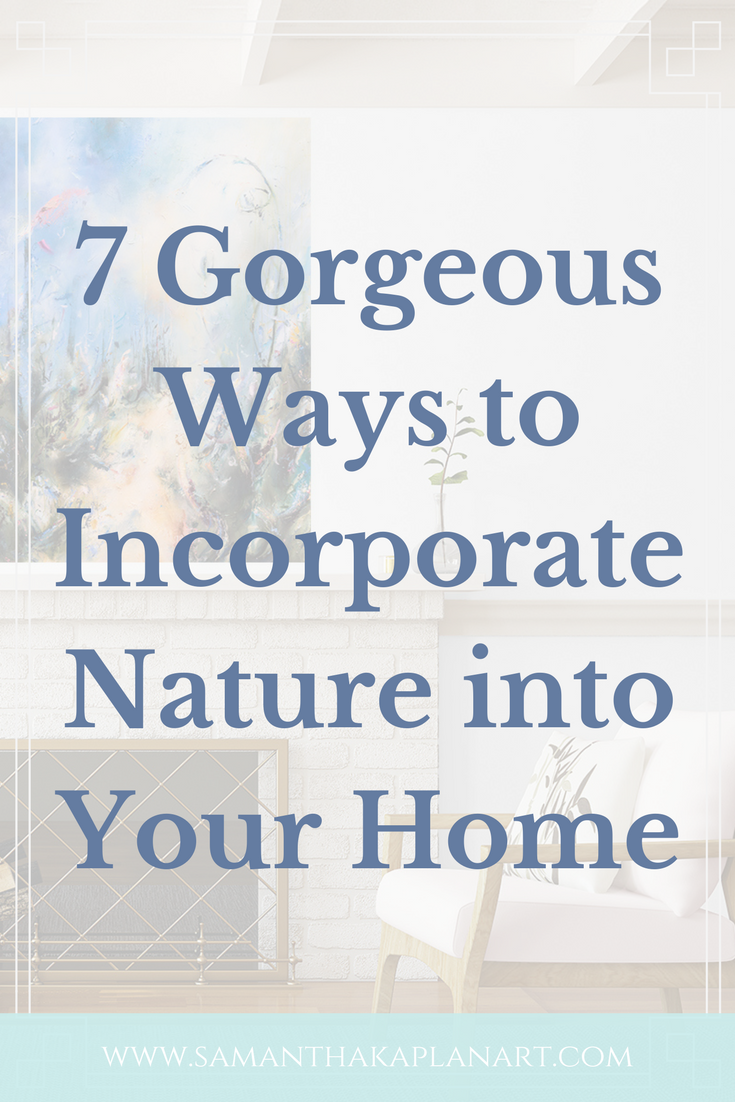 As someone who believes that we're all interconnected, I think it's essential to find ways that we can connect with nature in our daily lives. We as humans are meant to be interacting with nature. We've been doing it for thousands of years. It's only recently in the past two centuries that we've started to lose that connection with the outdoors as our jobs and lives have transitioned inside into factories, corporate offices, and classrooms. Since it is not always possible to spend all day every day outdoors, we need to find ways to compensate so we can still experience nature's benefits within our homes and workspaces.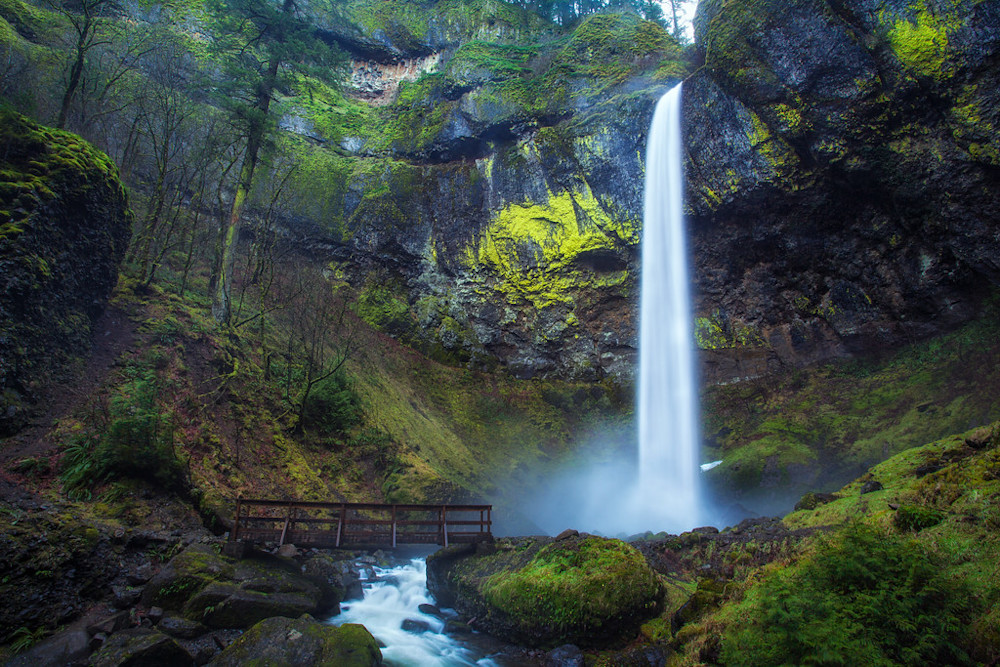 Source: Michael Matti
Nature naturally makes us feel better emotionally, and also improves our physical well-being. It boosts our immune system, lowers our blood pressure, reduces muscle tension, reduces the stress in our lives, improves our mood, increases our ability to focus, accelerates our recovery from illness or surgery, increases our energy level, and even improves our sleep. Did you know that your stress levels and mental fatigue drop when you visit green spaces?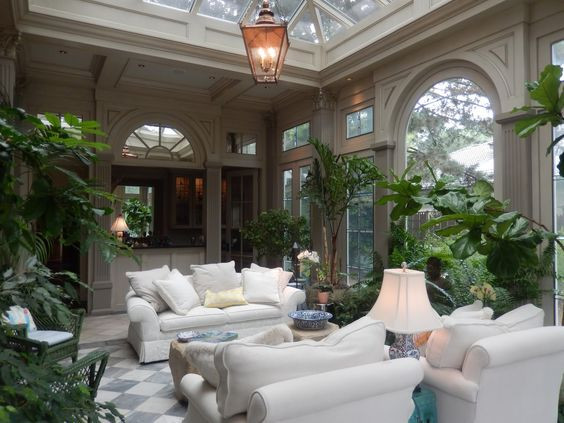 Source: The Fresh Tangerine
So naturally, we want to incorporate all of these health benefits into our daily lives.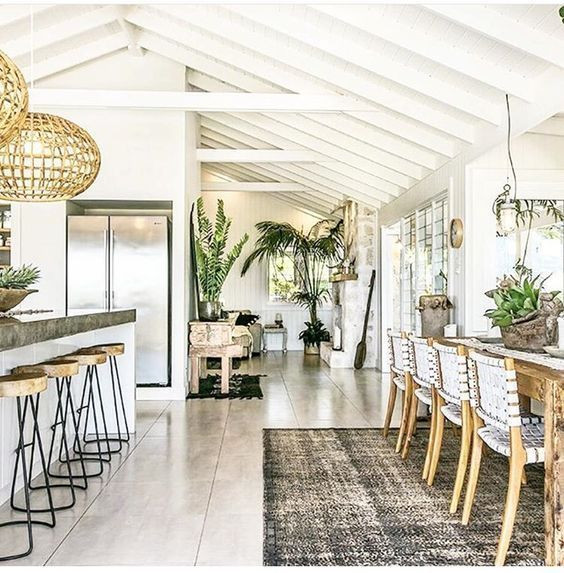 Source: Making Your Home Beautiful
This year, I've personally been taking an initiative to live healthier because I realize what a valuable asset my health is to my life. As an initiative to improve both my mental and physical health, I believe it is so important to figure out ways we can incorporate nature into our lives and our décor to avoid that separation from the natural world.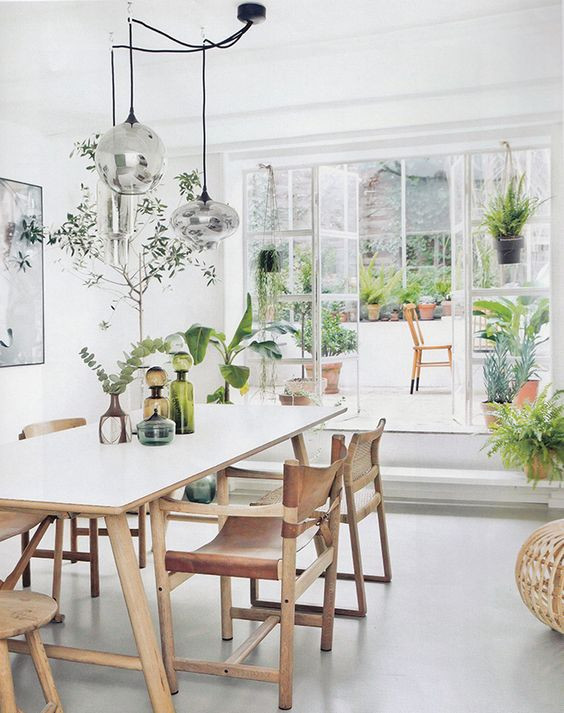 Source: Lovely Market
Before you continue reading on, make sure to download the free Step-by-Step Guide to Incorporating Nature into Your Home. This guide will show you how you can beautifully incorporate nature into your home decor so you can transform your home into a happier and healthier place that you love to spend time in.

Here is a list of ways that you can start bringing nature into your home:
1. Decorate with House Plants
Plants are probably one of the most obvious ways that you can start bringing nature into your home, but there are also so many remarkable health benefits that go along with it. Not only will you have much more greenery in your house, but you can also have plants that are cleaning and purifying your air. How cool is that?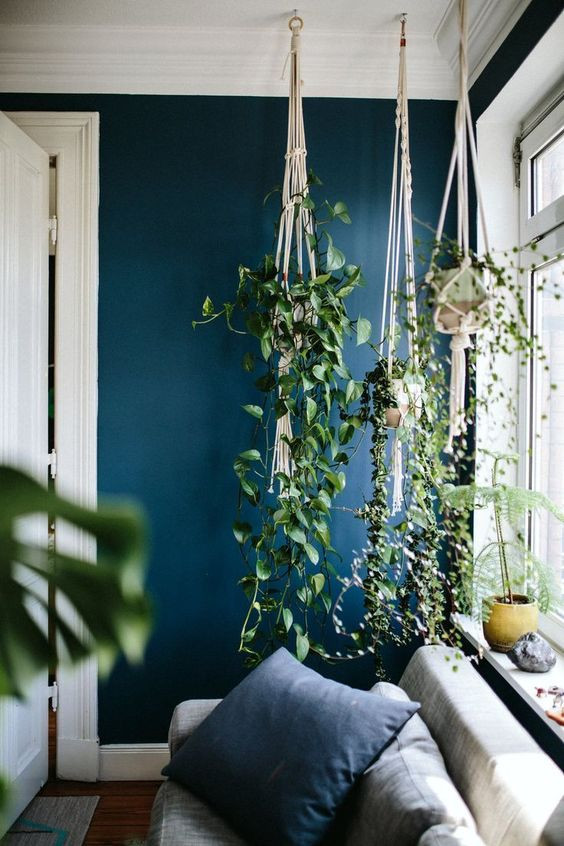 Source: Herz & Blut
You may not realize it, but it is likely that you have a bunch of chemicals roaming the air in your house between your furniture, electronics, and cleaners. And if you cannot have your windows open year-round, especially if you live in a colder climate, this is the perfect alternative to making sure that you're always breathing in clean, purified air. You can learn about some of my favorite, effective houseplants in my article: The 5 Best Plants to Have in Your Home.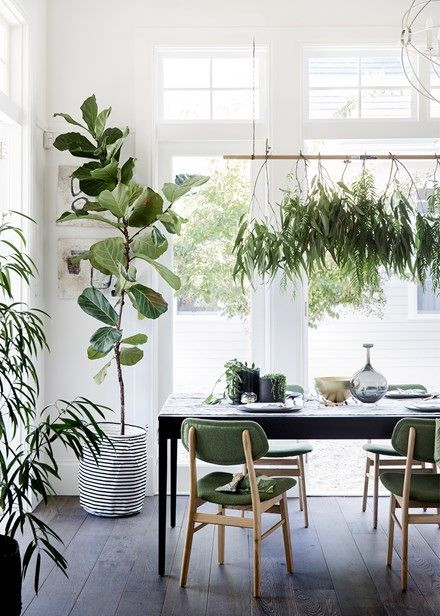 Source: Home Beautiful
If possible, I highly recommend putting plants in every room of the house. Just be mindful of the types of plants you choose and the amount of sunlight they require.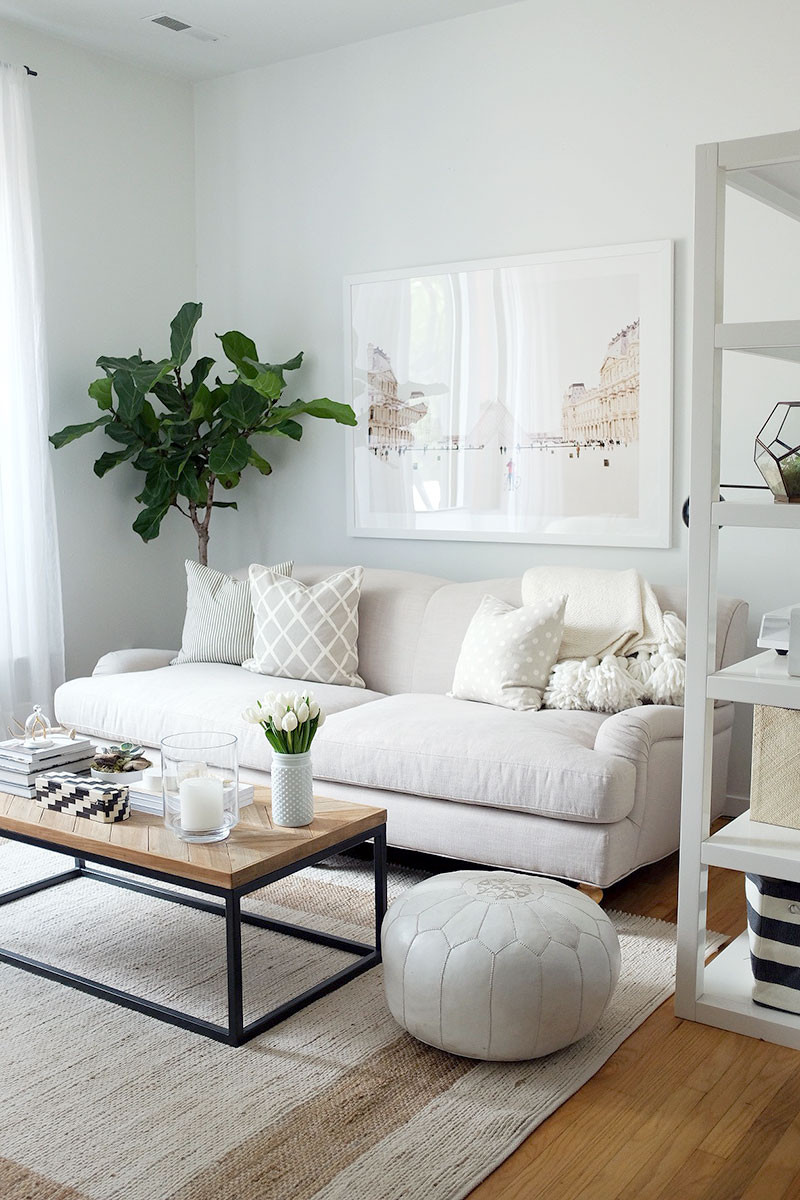 Source: The Every Girl
2. Decorate your Home with Paintings of Nature
What better way to be connected with nature than to have beautiful representations of it on your walls? According to Jean Larson and Mary Jo Kreitzer from the University of Minnesota, viewing scenes of nature reduces anger, fear, and stress and increases pleasant feelings. How would it feel to be able to gaze into a beautiful painting while you're in the comfort of your own home?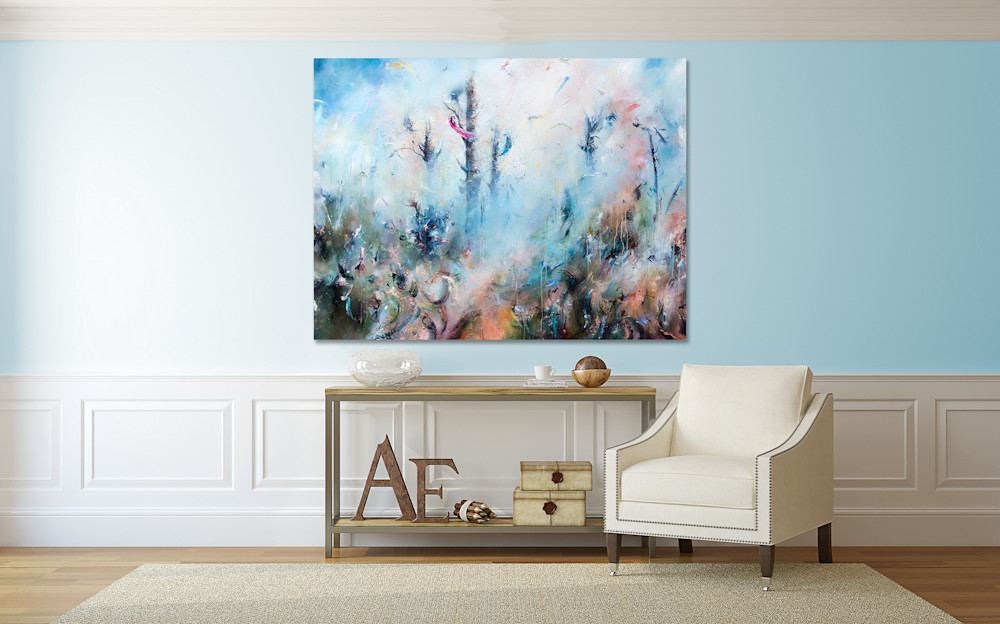 After, Oil on Canvas, 65 x 85in
Art itself has so many health benefits to your mental and physical health that include reducing stress and anxiety and even improving your well-being. Art also increases the appreciation and gratification for what we have in our lives. It inspires us and often reminds us what is really important in life. I think we all can always be reminded of that in our crazy and busy lives.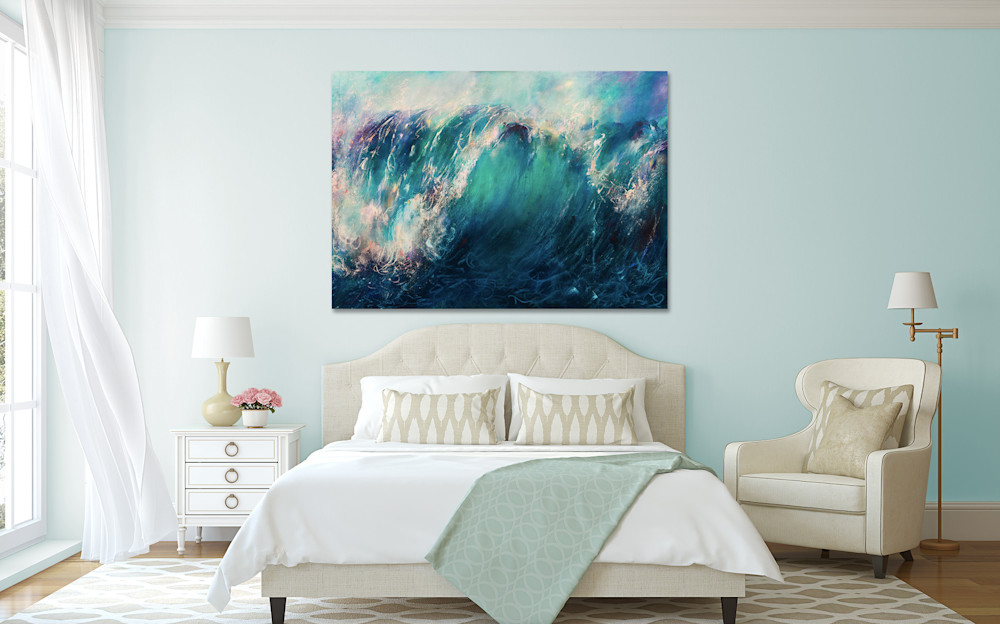 The Release, Oil on Canvas, 52 x 70in
As an artist, I create large abstract landscape paintings of nature because it is my mission to create work that inspires people so they feel like they can relax, feel inspired and be immersed in nature within their own homes. You can scroll through my available selection of original paintings and fine art prints HERE.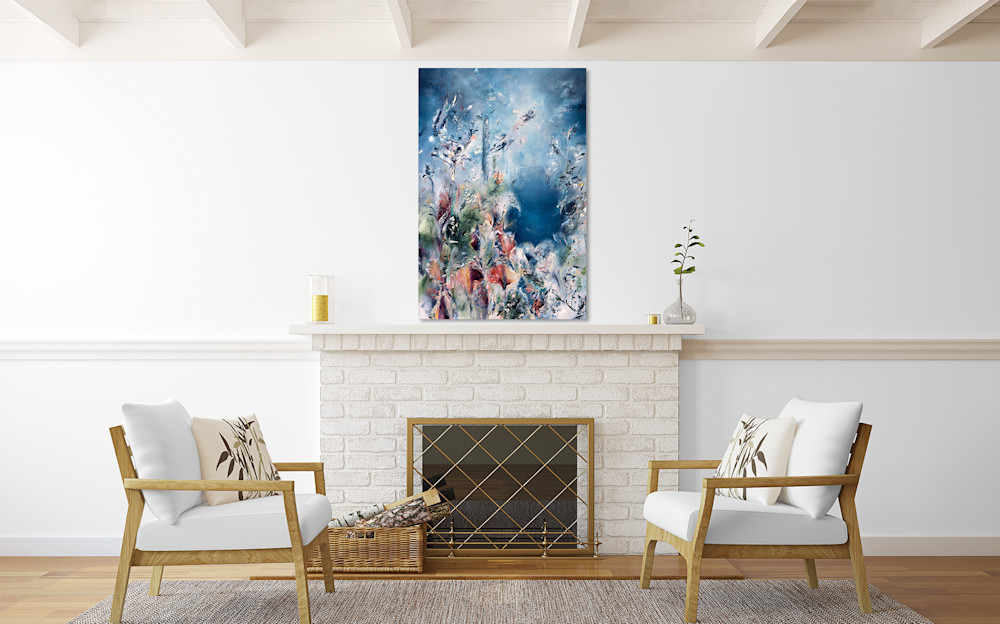 Morning Bloom, Oil on Canvas, 56 x 37in
3. Display Stones, Crystals, and Rocks that you have collected over the years
It can be so inspirational to surround yourself with stones, crystals, and rocks that you've either collected or purchased over the years. I personally have been so inspired by the jewel tones created by the crystals. When I was creating paintings of water, I would study the colors of fire moonstones so I could capture those jewel tone colors in my paintings.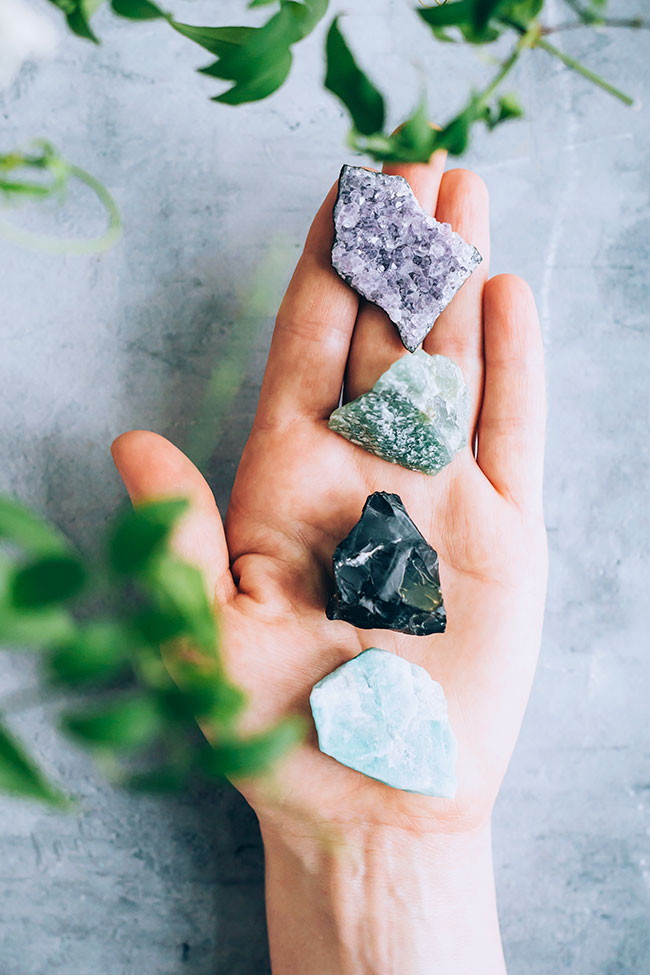 Source: Hello Glow
According to Ashlina Kaposta, an interior designer who specializes in Decor Therapy, crystals and stones help create a beautiful home decor Feng shui and be used to heal, uplift and attract more of the things you want in your life. Sounds amazing, right?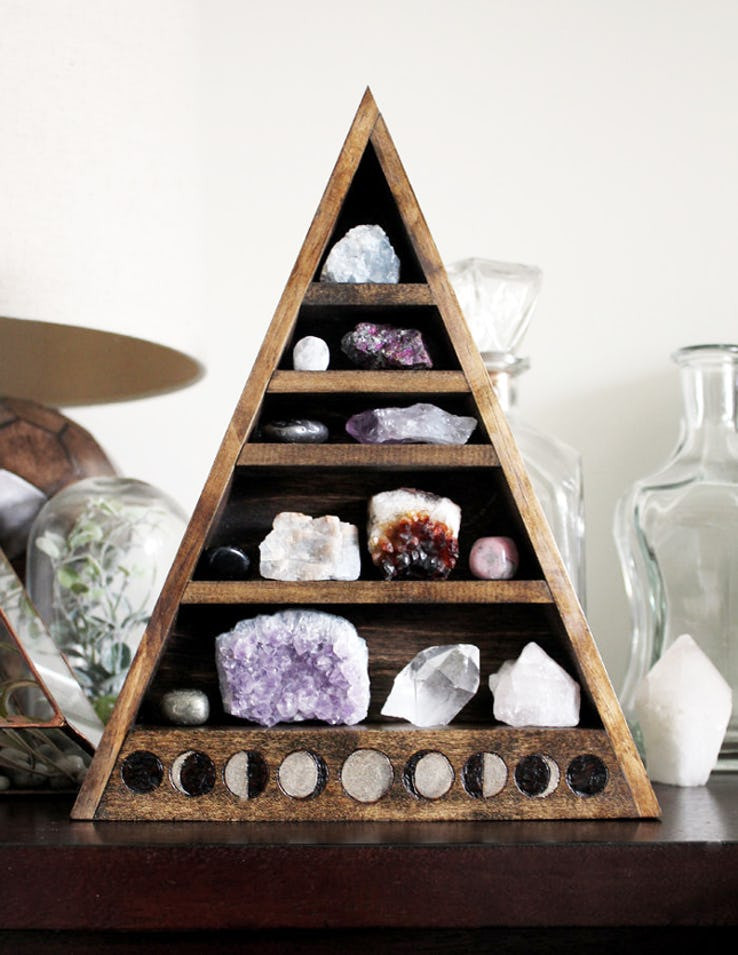 Source: The Things.com
I love the beauty of crystals like amethyst, rose quartz, turquoise, and fire moonstones. They add such beauty and positive energy to your home and are also wonderful to hold, depending on the texture of the stone.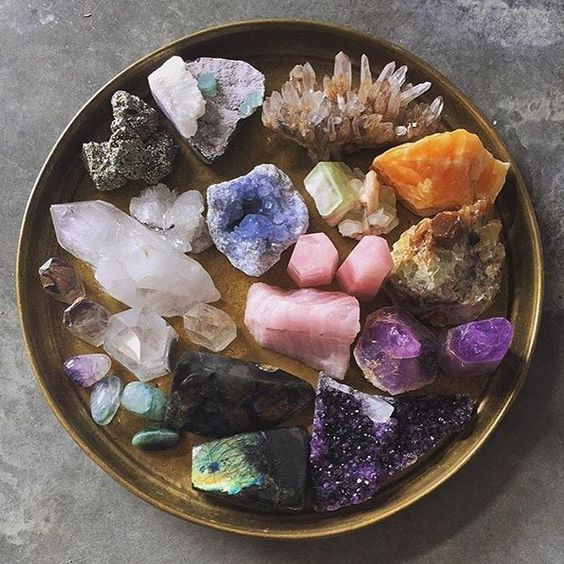 Source: Websta
In her blog post, "Spiritual Glamour, How To Use Crystals and Stones in Your Home (To Attract More of What You Want!)," Ashlina strongly recommends Citrine, because it is the stone for success and abundance. She also suggests Pyrite, because it encourages intellect and well-being, and also helps you focus, be inspired creatively and be in-flow.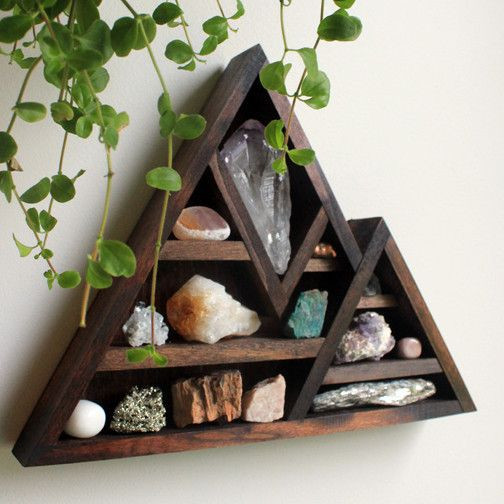 Source: lifenutrienthq.com
Here are a few ideas of how you can decorate with crystals and stones in your home: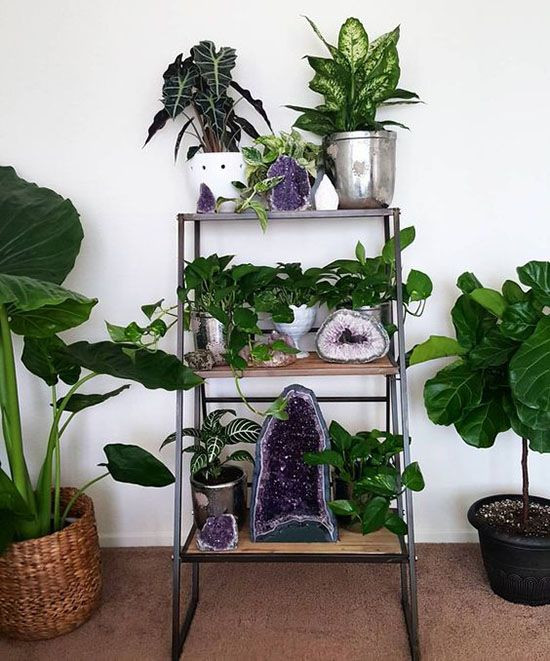 Source: Better Homes & Gardens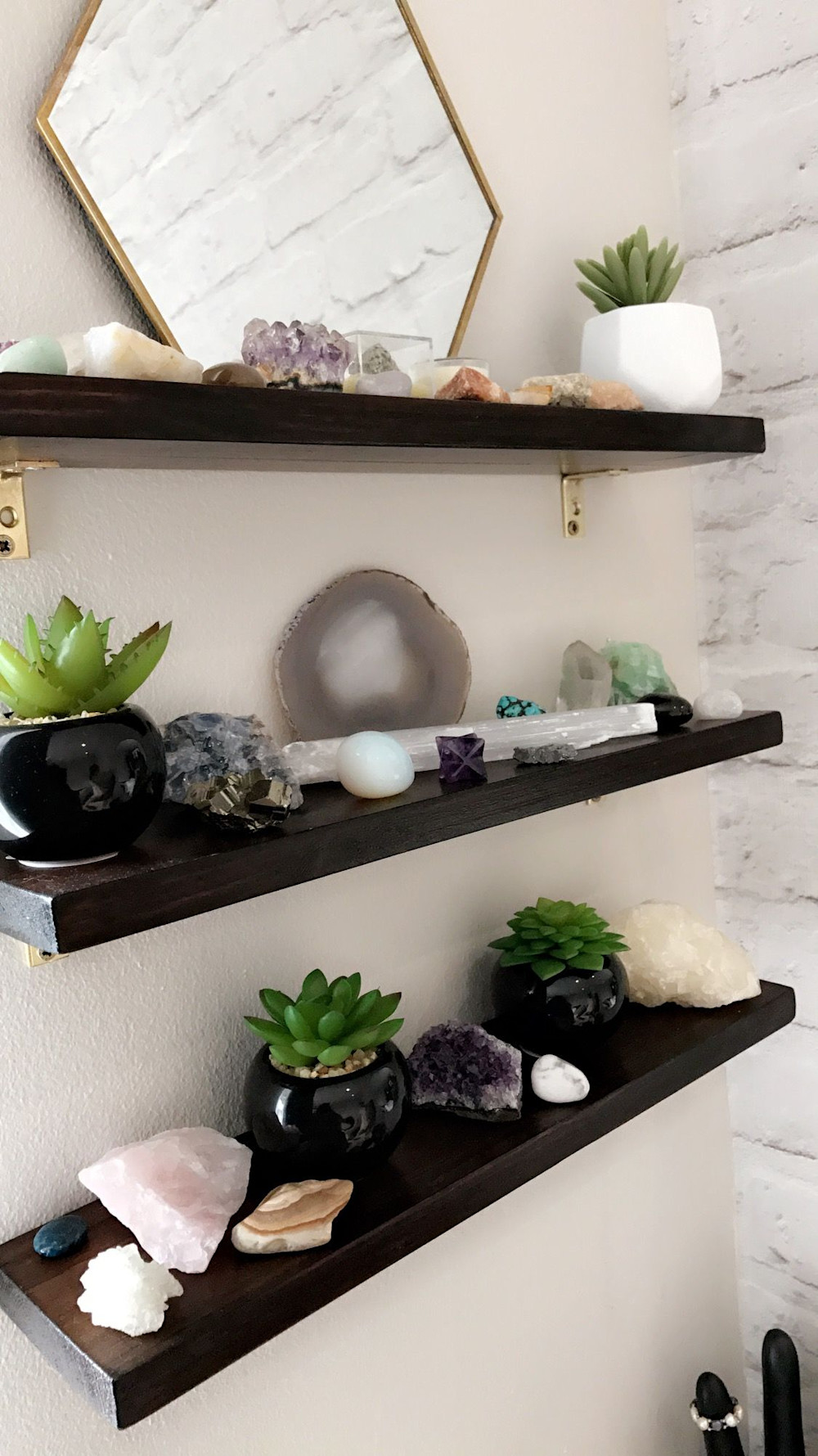 Source: Pinterest/Georgia Glenn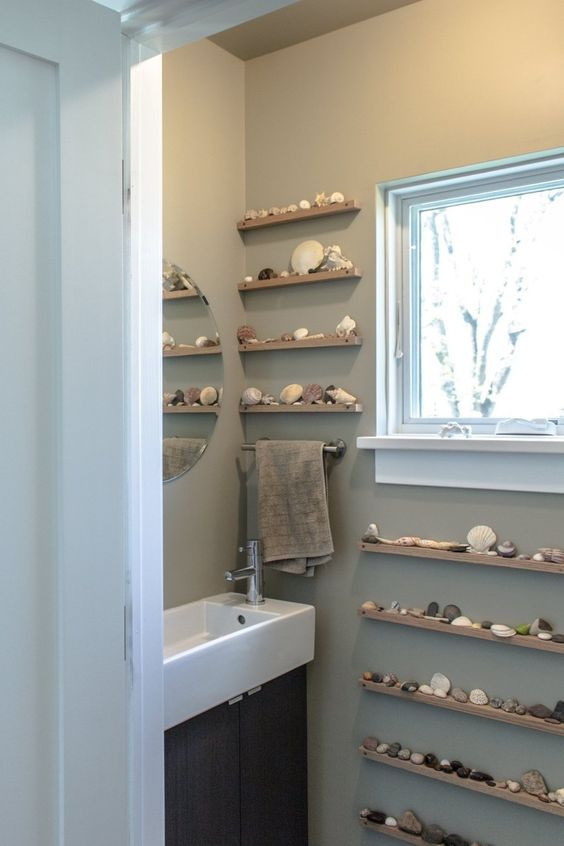 Source: Apartment Therapy
You can learn more about which crystals will improve your health and happiness in my free Step-by-Step Guide to Incorporating Nature in Your Home.

4. Make an Indoor Herb Garden
Here is a beautiful way to add more greenery to your home and also have fresh herbs that can keep you healthy and add tasty flavors to your foods year round. As someone who is trying to go vegan, I think this is a beautiful way to grow organic foods that will make you healthier and will also add flavor to your foods.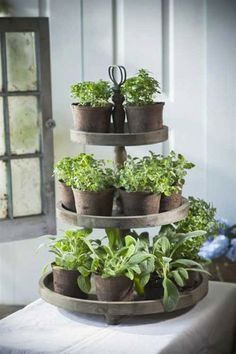 Source: The Chic Site
You can easily place these in small pots throughout your kitchen. Just beware that for these herbs to grow well indoors, they need to receive as much sunlight as possible. Try to place them in a sunny spot where they can receive at least 4 hours of sunlight daily. It is recommended that you place them in windows facing south or southwest. The best alternative is windows facing the east or west.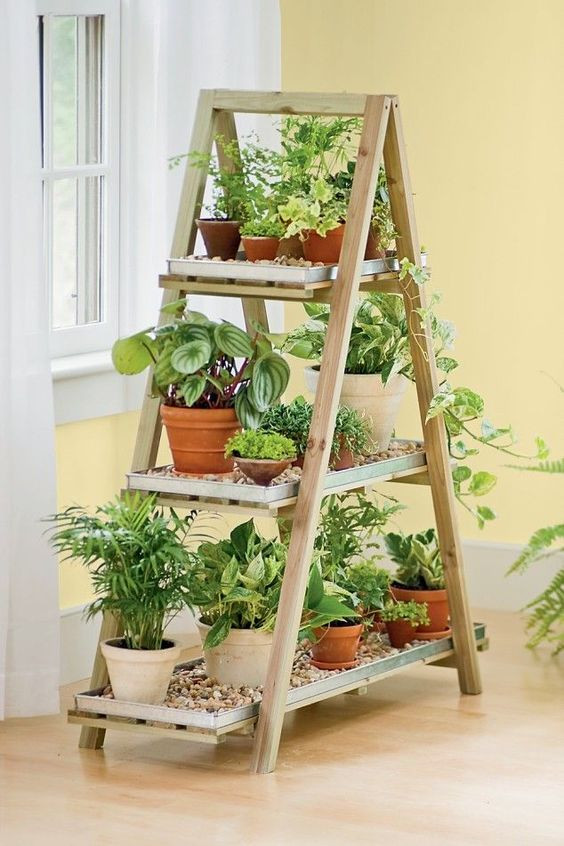 Source: Fantastic Viewpoint
Side note: Make sure the pots you use have good drainage. It is recommended that you use a rubber, glass or a metal pot to grow your herbs in. Try to use a saucer, liner, or drain pan under the pot to catch water to protect the surface of your tabletop or windowsill.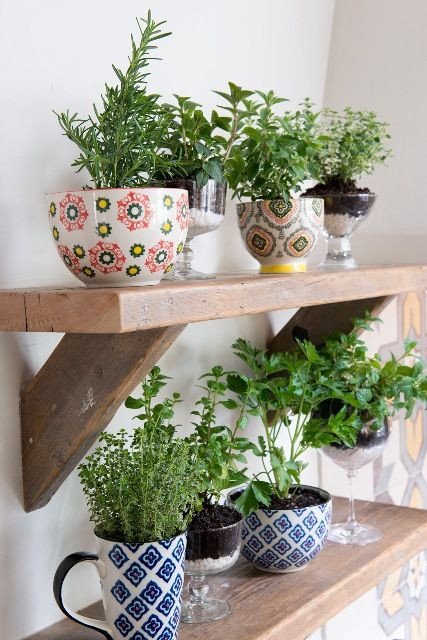 Source: Four Generations One Roof
Some of the best herbs to grow indoors are chives, mint, lemongrass, cilantro, basil, bay laurel, marjoram, oregano, parsley, rosemary, sage, and thyme.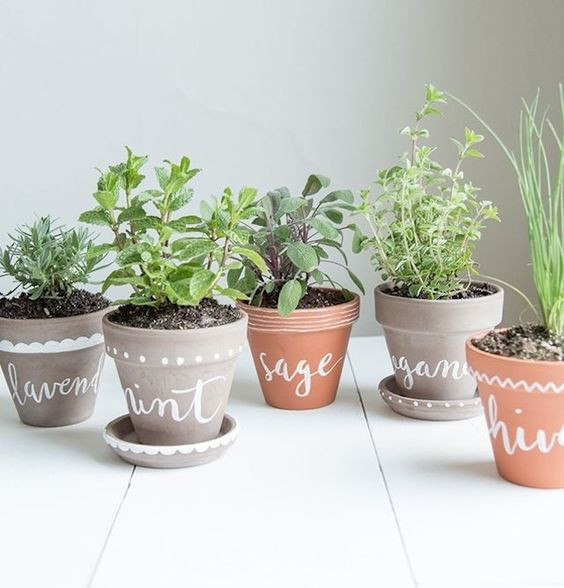 Source: Brit + Co
5. Decorate your home with Furniture made from Natural Wood
As an environmental activist, I personally believe that the last thing we need to cut down more trees. However, wood is more of an environmentally friendly alternative compared to furniture made from particleboards that are often detrimental to your health.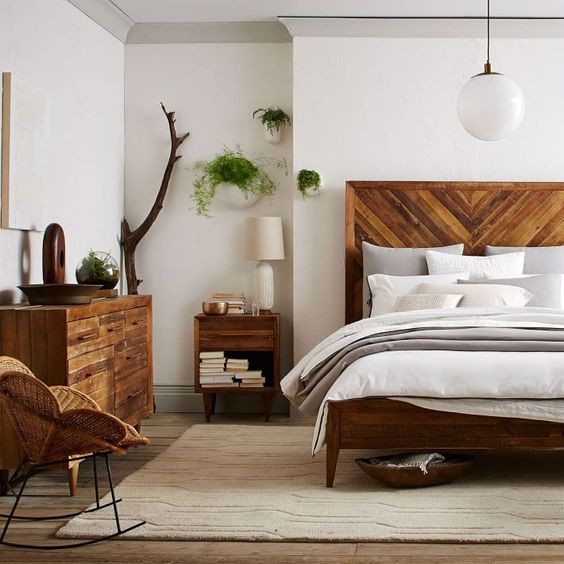 Source: West Elm
Wood is a durable, reusable, recyclable, and recoverable material that will last longer compared to the alternative options, which are more likely to end up in the landfills. In contrast, wood furniture can last a lifetime and can even be re-used and eventually turn into a new piece of furniture if need be. Wood also reduces CO2 emissions, which helps slow down the climatic change that we're currently facing and will also help clean your air.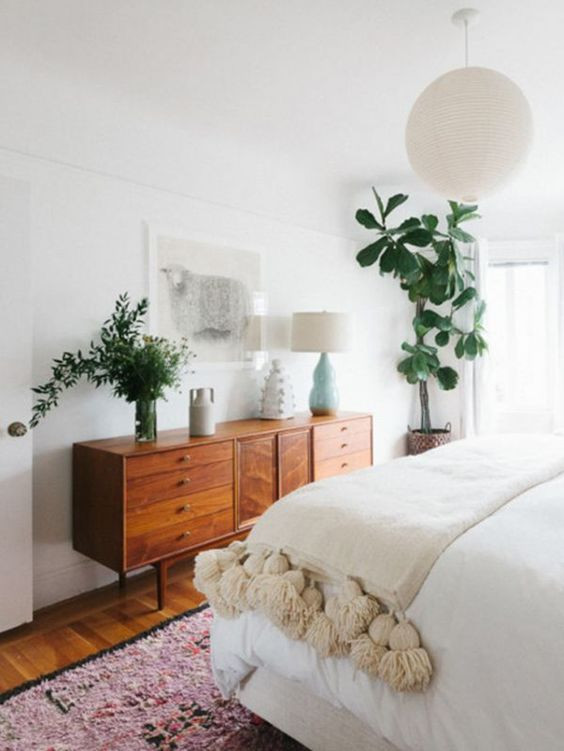 Source: Diani Living
Wood furniture will not only give you the feeling of nature. It can also add an elegance and artistic appeal to your home. Solid woods can be a great way to add warmth and texture to your home.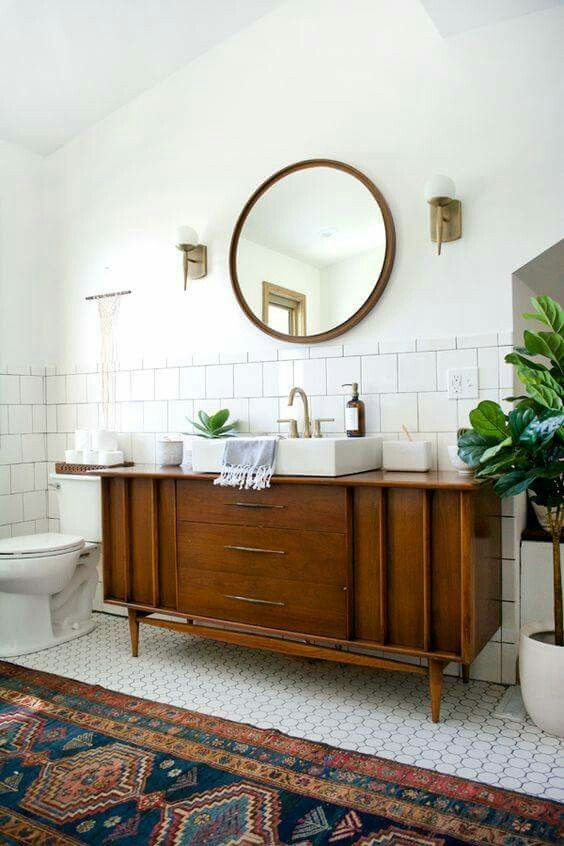 Source: Pinterest/Luxe Real Estate Co
You can either use pieces of wood that are minimal in a style that look like they were taken directly from the wild or you can choose more of a decorated finish depending on the style you're trying to accomplish in your home.
6. Decorate with textiles/natural fibers that reflect nature
Textiles can be a beautiful way to make you feel like you can have nature immersed in your home. You can use the fabrics in your bedding, sheets, curtains, placemats, and even dish towels with plant patterns or patterns that reflect nature as a way to connect you more with the outdoors.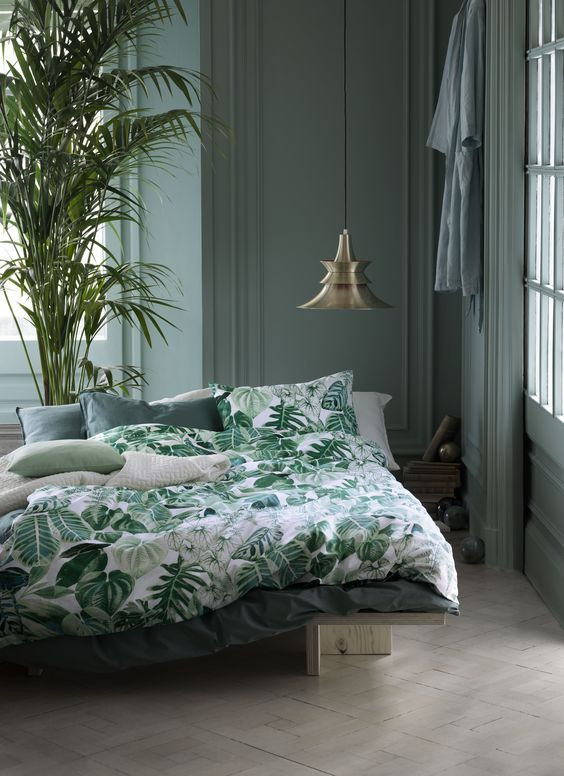 Source: Nonagon Style
You can also purchase rugs or throw made of natural fibers, such as coir, cotton, and flax as a way to keep it real or you can decorate with earthy tones. Natural Fibers are not only better for your health, but they are also a better and more sustainable option for the environment, in contrast to synthetic fibers, which have become an active contributor to our carbon emissions and waste.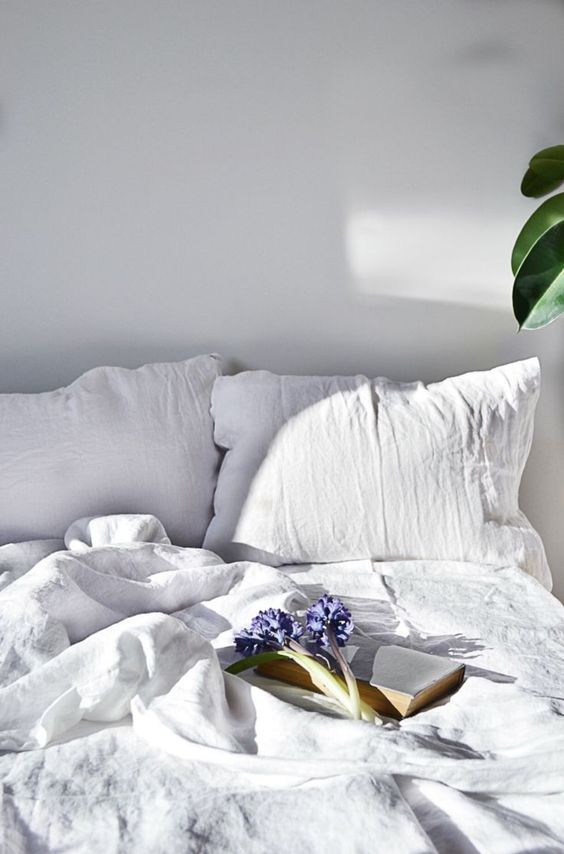 Source: The Baltic Green
Since natural fibers are a renewable resource, they also provide benefits to the people who are making your clothes. These fibers also benefit the environment because they are renewable, carbon neutral, biodegradable, or produce waste that is organic or which can be used instead to generate electricity or make ecological housing material.
7. Hang Eucalyptus

From

Your Shower Head
I personally have not tried this idea out, but I think it's a brilliant idea. Hanging Eucalyptus from your showerhead is a beautiful way, resourceful way to create an accent of nature into your bathroom, in addition to adding an aromatic feeling to your showers. Hanging this plant to your showerhead can be a beautiful and easy way to transform your bathroom into the feel of a spa.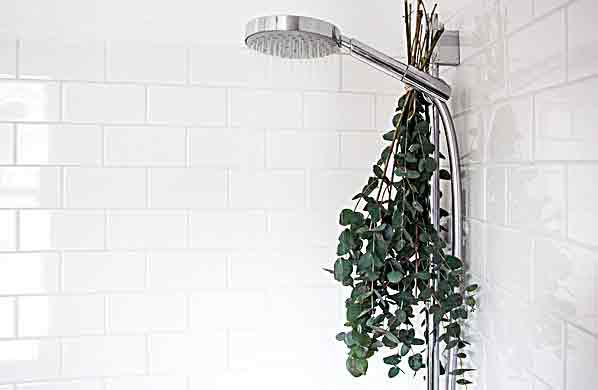 Source: Grand Voyage Italy
Eucalyptus also has several health benefits, which can boost your immune system throughout the year, especially when you're taking a hot shower. It is known to be the powerhouse plant to relieve respiratory symptoms. It also has anti-inflammatory properties that can serve as a decongestant when inhaled. Eucalyptus can also relieve symptoms of the common cold.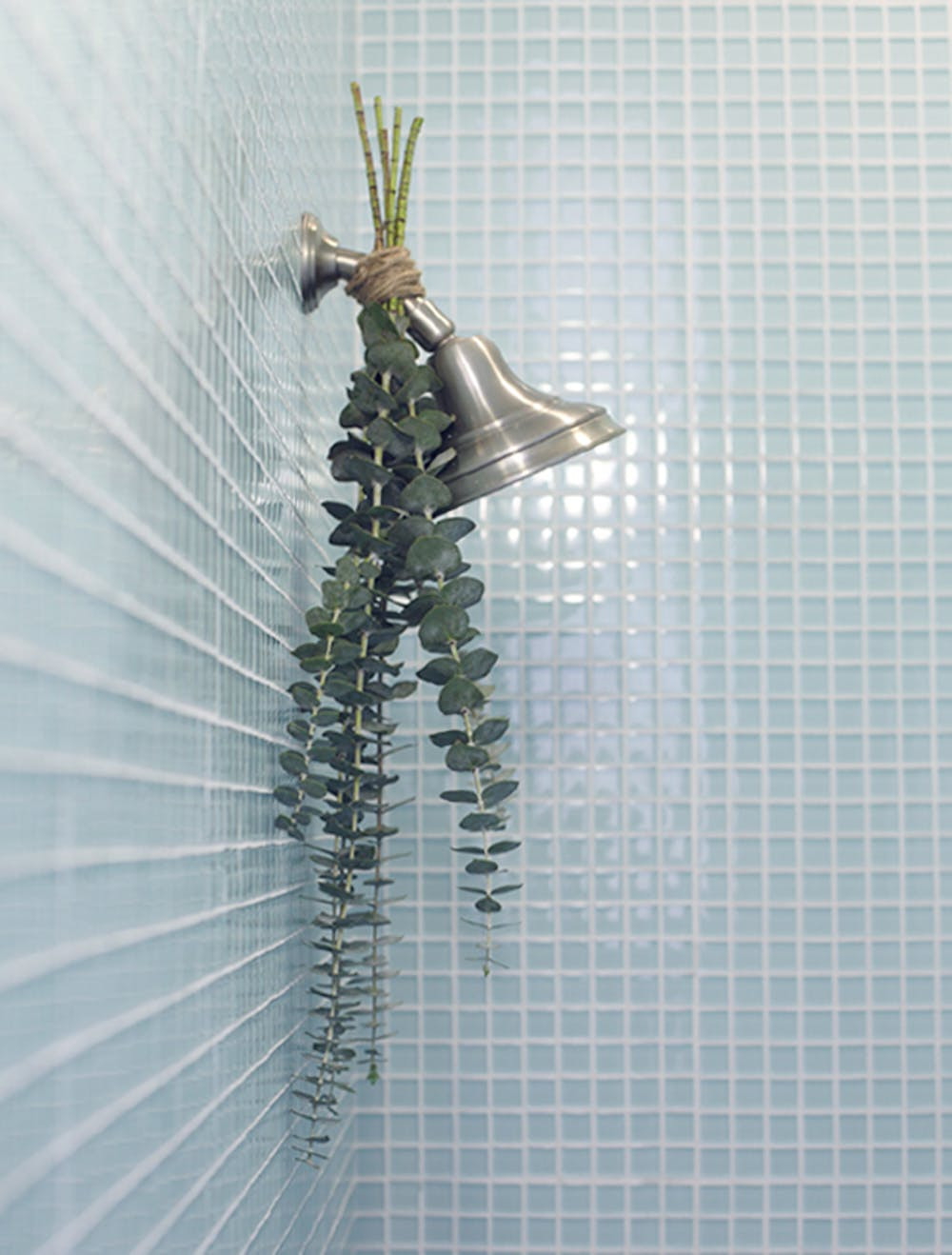 Source: Brit + Co
To Attach: you can use string or baker's twine to tie them together securely and then use a string of twine to attach the bundle to your showerhead. Just make sure that the bunch of eucalypti is hanging along the shower wall, behind the stream of water. (Caution: keep it out of reach from your pets and make sure to keep your bathroom doors closed if you keep the fresh Eucalyptus in your shower).
Would you like to have these tips on the go? Download my free Step-by-Step Guide to Incorporating Nature Into Your Home.

Related Articles:
The 5 Best Plants to Have in Your Home
How to Make Your Home Feel More Like YOU
How to Choose the Right Art for Your Home