7 Inspirational Places to Decorate Your Home with Art
How would it feel to call yourself an art collector? Imagine if you can surround yourself with the beauty and language of different artists. Let me tell you that it's definitely possible and you can do this…no matter what your budget is. I personally love to surround myself with the work of different artists because it creates a beautiful and inspiring environment to work in and be creative, whether I am reading, drawing, journaling, or simply creating a blog post like this one.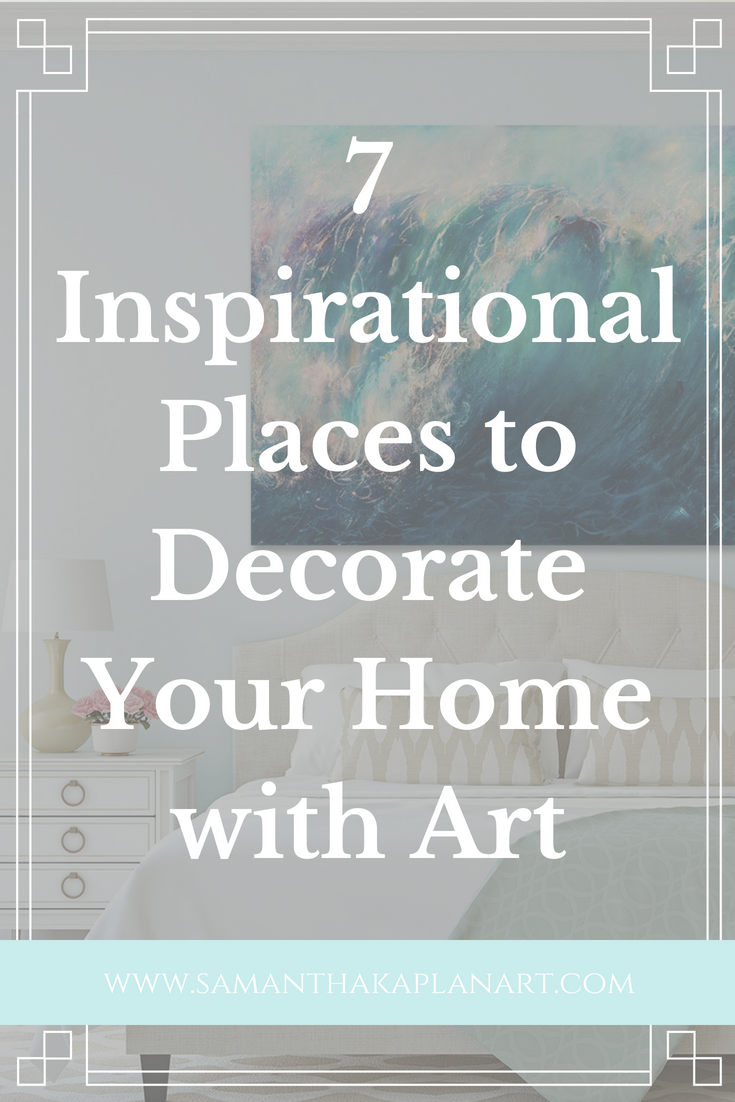 And here are 7 inspiring ideas for places you can decorate your home with art:
1. Above your Sofa
This is probably one of the most standard and popular places to display artwork in your home. It can add the perfect touch to a calm, living room and also be the perfect touch that draws people into your space. I personally recommend hanging large works of art above the sofa, especially if the furniture itself covers a lot of space.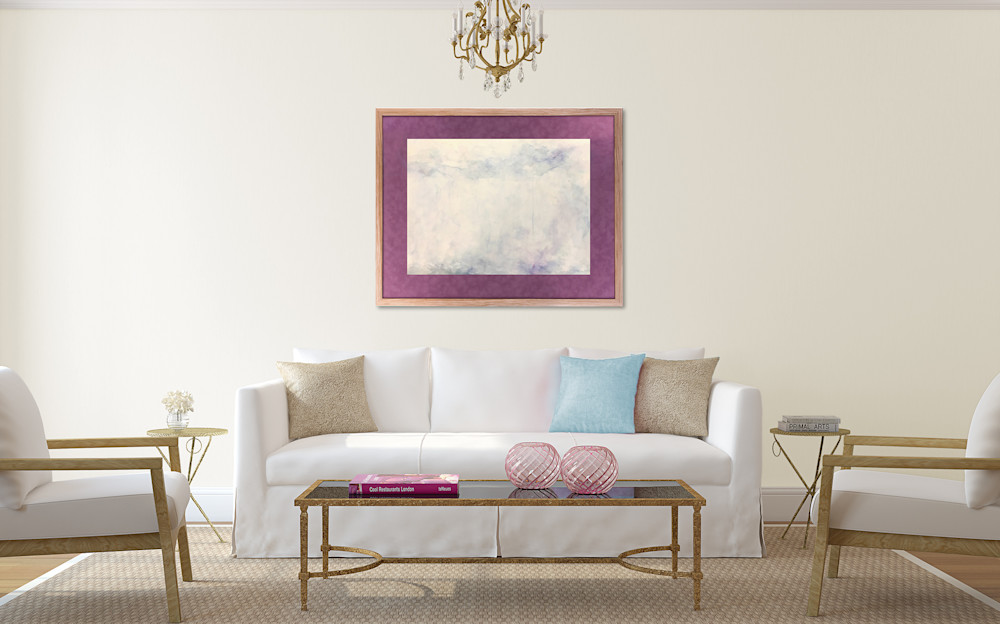 Rainy Days, Watercolor on Stonehenge, 22 x 30in
In her article, "Living Room Artwork," Laura Flanagan says that the piece of artwork you hand should at least be two-thirds the width of the sofa. So if you have a couch that is 7ft long, you should have an artwork that is around 4.6ft (56 inches) wide. Makes sense? You can check out some of the large abstract landscape paintings that I have available here.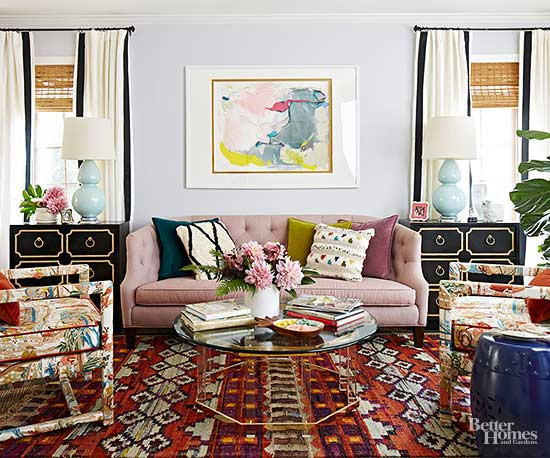 Source: Better Homes & Gardens
The other alternative is to use that space to create a gallery wall that covers around 2/3 of the space of your sofa or allow the wall to expand beyond your couch. You can learn more in my article, How to Create the Perfect Gallery Wall.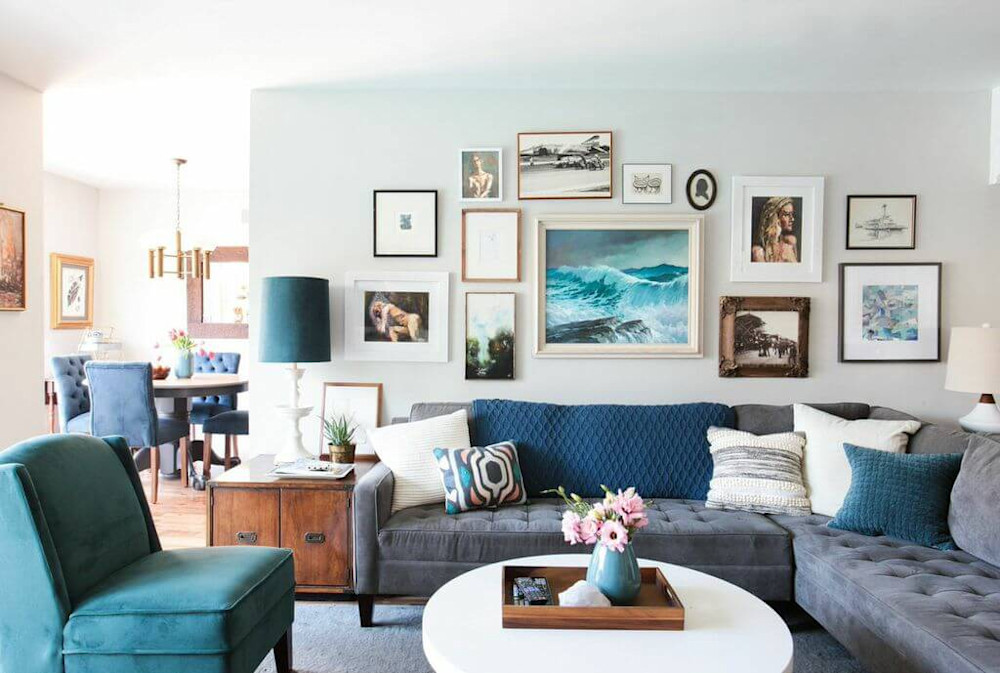 Source: Emily Henderson
Please note: Make sure you hang your artwork at eye level. Linda Crisolo, the director of merchandising from Art.com, recommends that a great way make sure that you are placing artwork at the right height is to hang it "one hand width above the sofa."

2. On Either Side of the Window
Depending on the space between your windows and walls, this could be a great place to display a small, medium, or large piece of art. It can be the perfect way to add flow to your walls and address the negative space that exists in that room. Just make sure that there is 4-6" on each side of the window, so the art doesn't look too cramped in the space.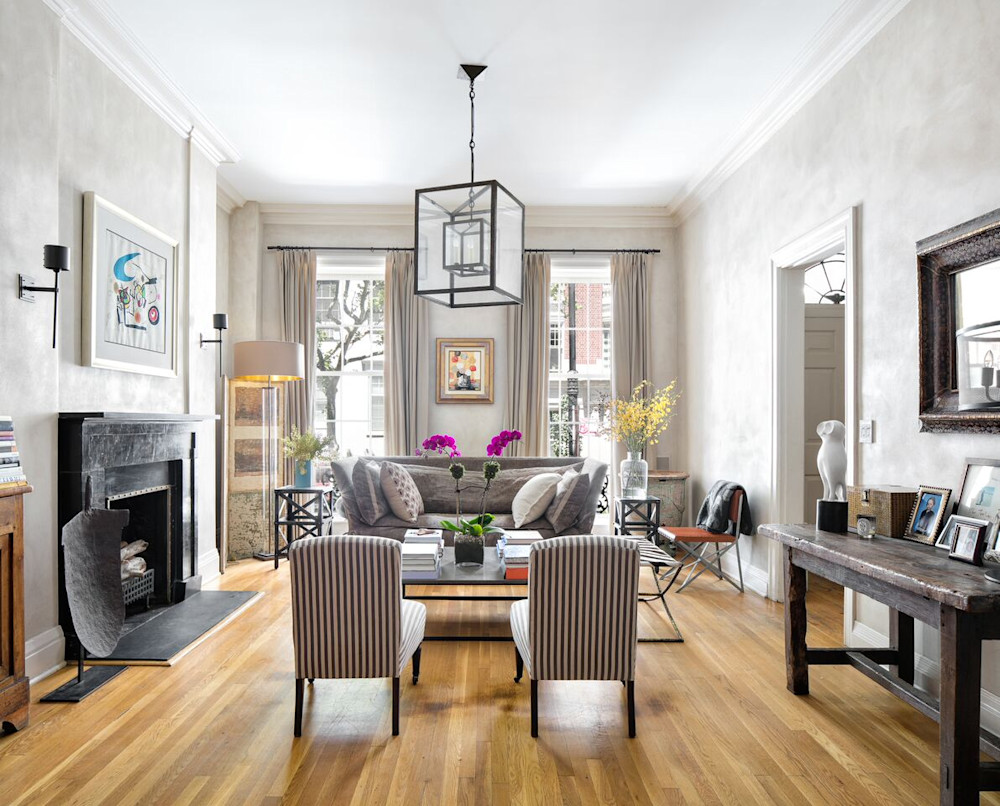 Source: 6sqft
Just make sure that original works of art are not in direct sunlight. Direct sunlight can cause original paintings and drawings to fade over time. Most prints have a protective layer on top of them to prevent this from happening, but it's always better to be safe than sorry.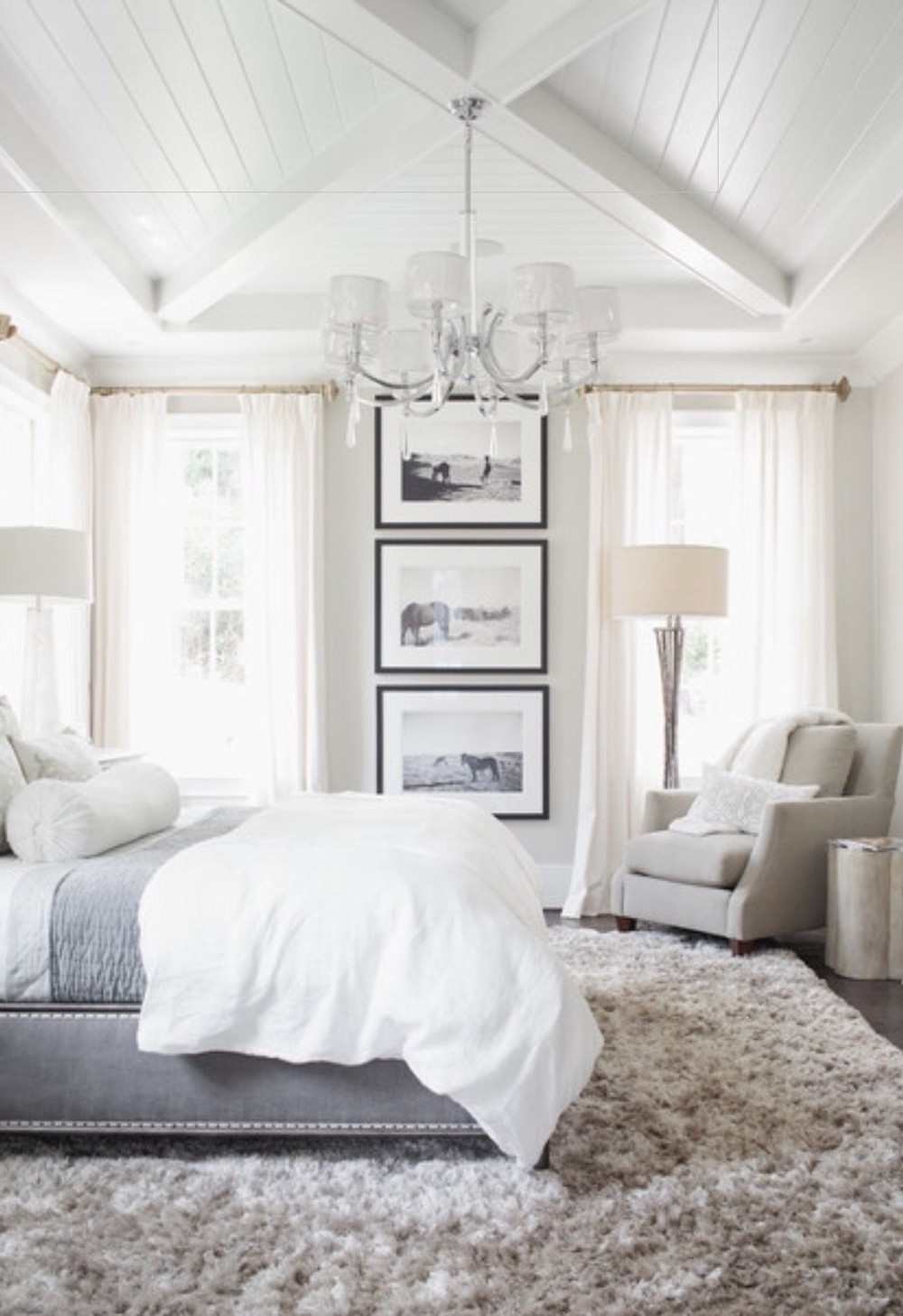 Source: Ashley Furniture Homestore
3. Above your Bed Frame
This is another perfect place to decorate with a large painting or groupings of smaller works of art. Artwork can add the perfect touch to a bedroom and allow you to tie in all of the colors and designs you have chosen for your room.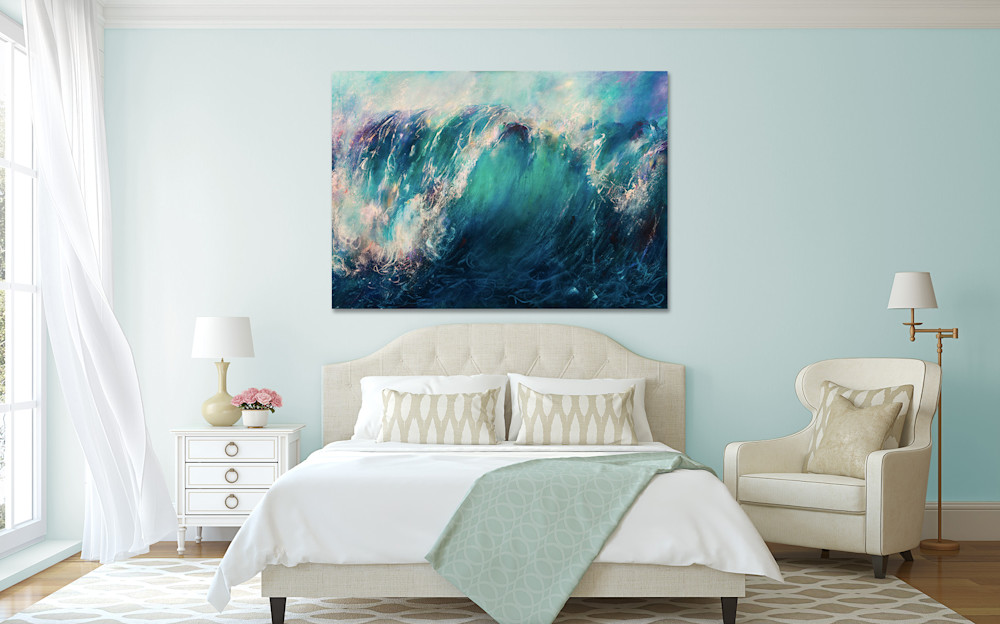 The Release, Oil on Canvas, 52 x 70in
If you're displaying work over a queen or king size bed, I personally recommend decorating with a painting that is at least 30 x 40." Although works around 40 x 50" could look nice as well.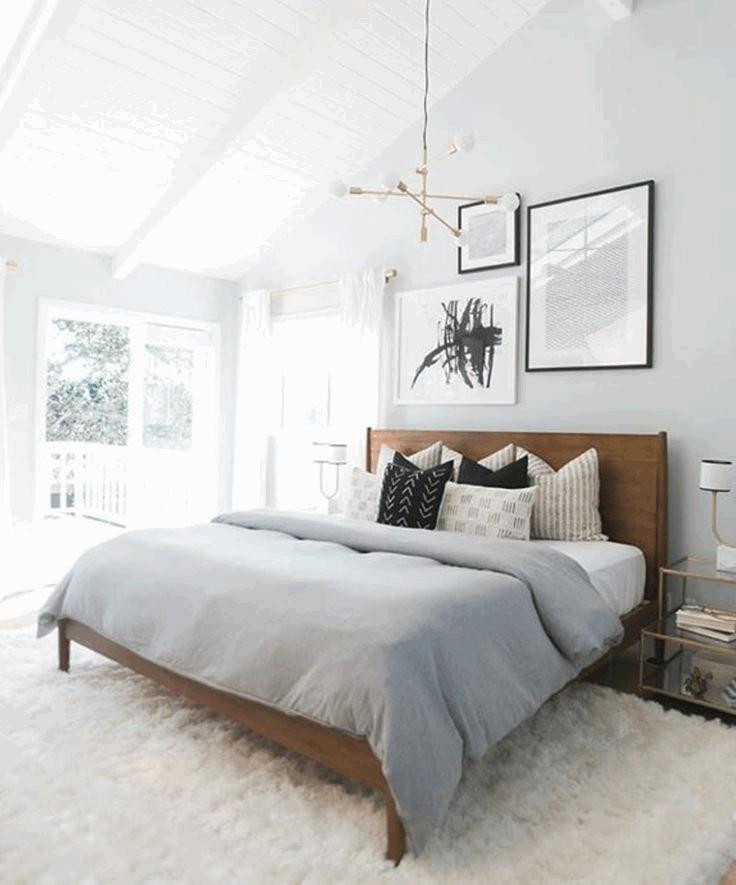 Source: Hellolovr
The other alternative is to display several groupings of artwork that would cover the same amount of space, as shown above.
4. In the Kitchen/ Dining Room
The kitchen can be the perfect place to display smaller works of art depending on the wall space that you have available. I personally recommend displaying it over counter space, or in the dining room.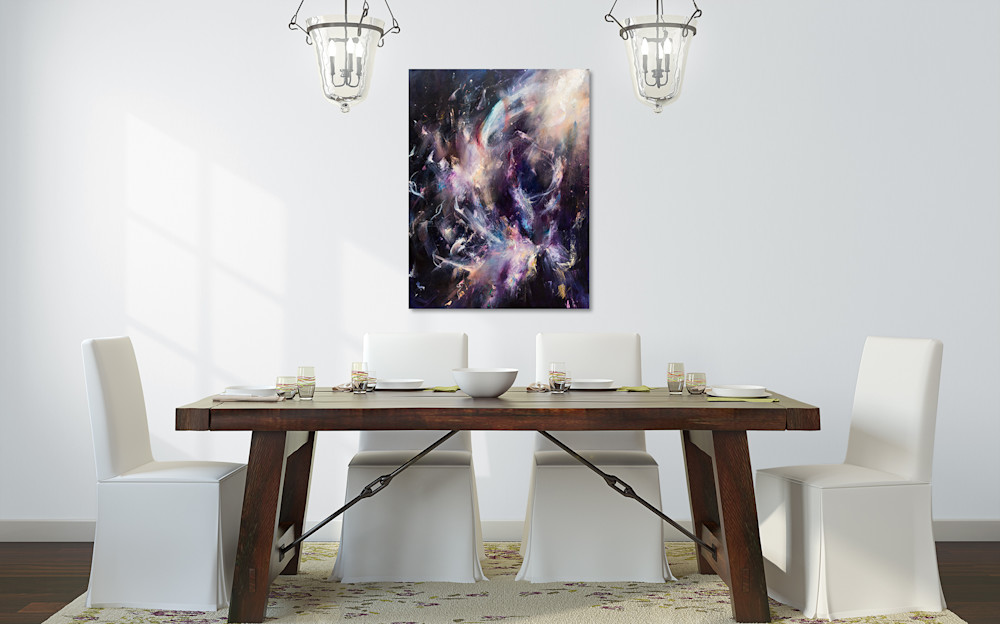 The Outburst, Oil on Canvas, 42 x 36in
Linda Crisolo, the director of merchandising from Art.com, recommends decorating artwork with bright colors, using stainless-steel frames for a modern kitchen.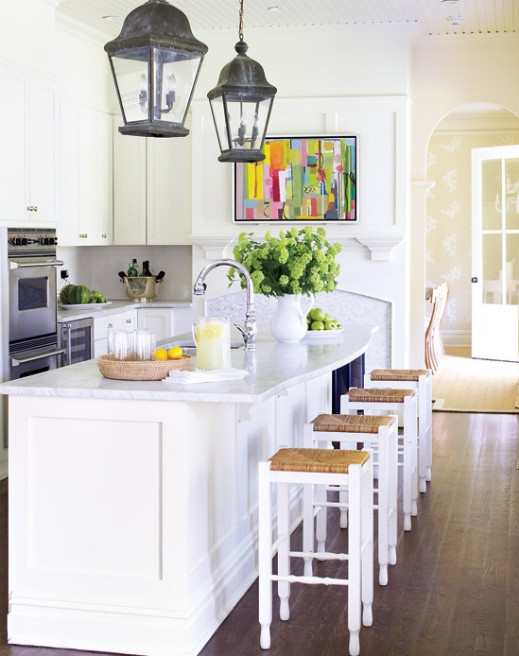 Source: Simple Details
Just make sure that you don't display the work in an area where it can get damaged by water or heat.
5. Above your Desk/ In Your Office
Where you work at home or have an office or workspace at home, artwork could be the perfect addition that brings that touch of inspiration and warmth into that space. You can display one medium-sized work above your desk, or you can decorate with a series of smaller works to create a space that you love to work in.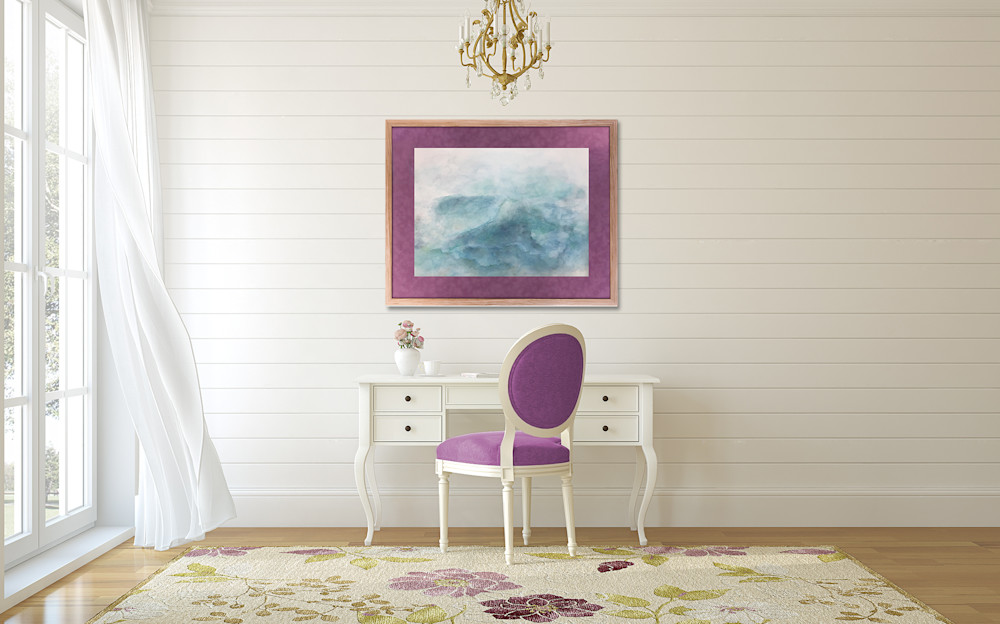 Calm Seas, Watercolor on Stonehenge, 22 x 30in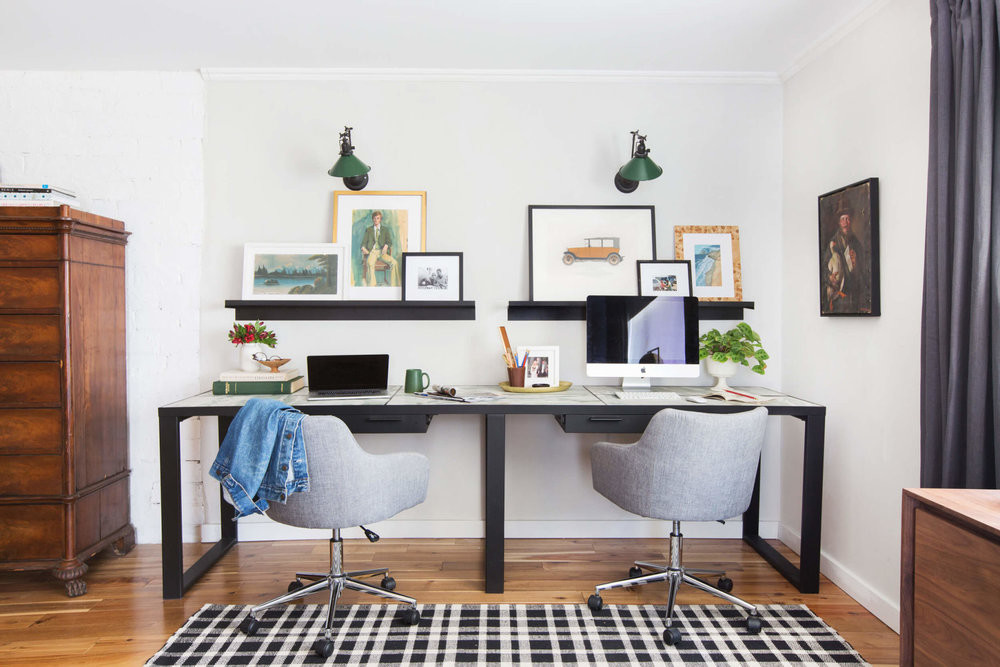 Source: Framebridge
6. Above the Fireplace
This could also be a wonderful place to display a beautiful painting or several groups of smaller paintings, drawings, and/or accessories displayed on a mantel depending on the space and the layout of your living space.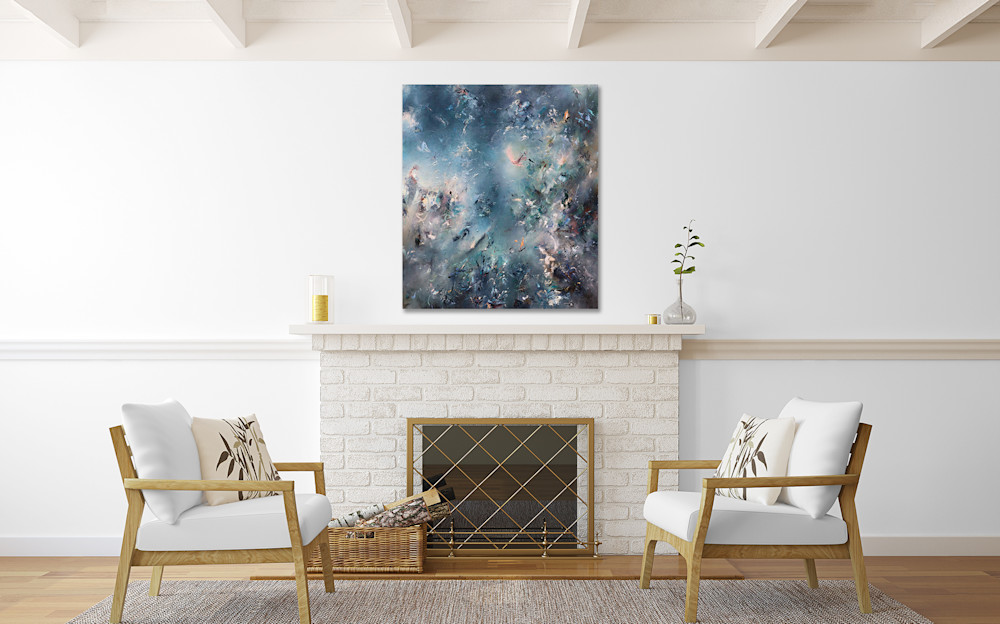 Morning Dream, Oil on Canvas, 42 x 36in
Imagine being able to relax at home in front of a warm fire and be able to look above at the beautiful artwork that is bringing a perfect unity to your space.
7. In the Hallway
Depending on how long your hallways are, this could be a beautiful opportunity to showcase some of your favorite paintings or prints. We all want to be surrounded by the things we love, right?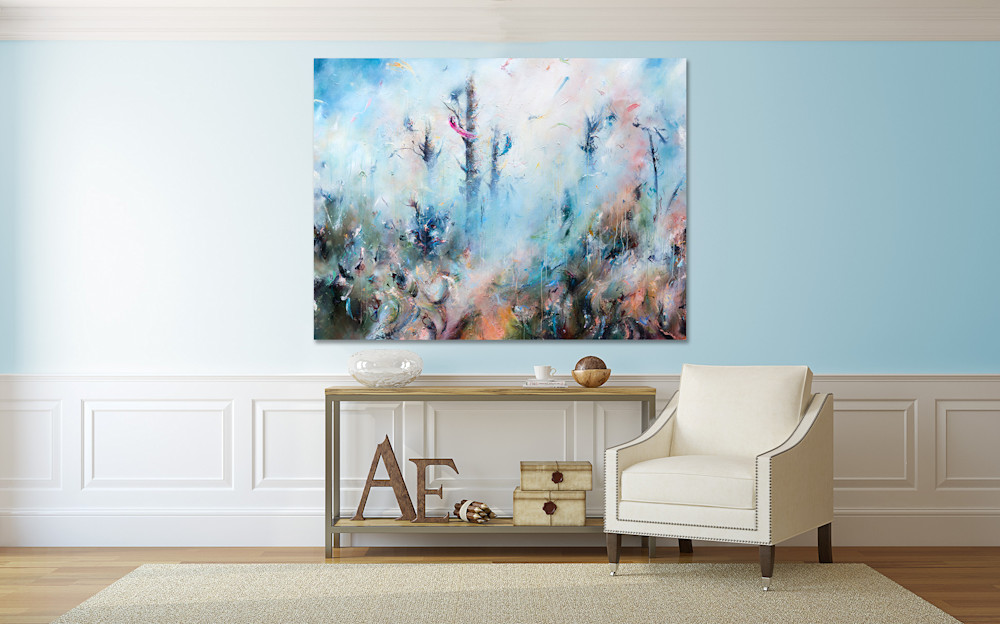 It will also give your guests the opportunity to give your guests a sense of your style, showcase your personality, and also make your space feel like YOU.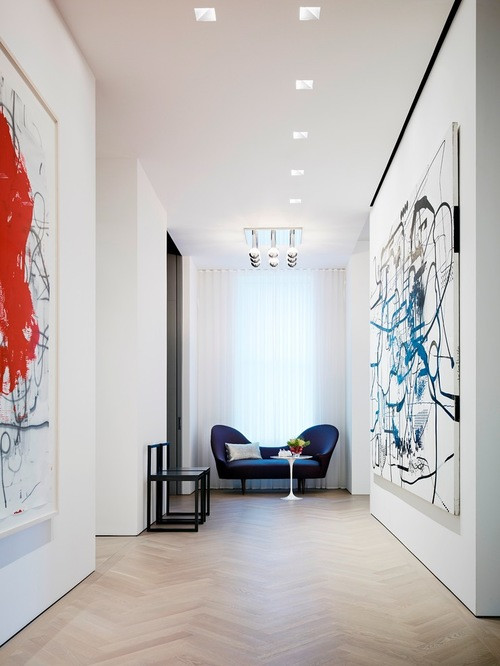 Source: Wallartys.com
Sounds wonderful right?
I genuinely hope these suggestions gave you ideas for how you can beautifully transform your home into an art gallery. Would you like to find artwork that you will love and cherish forever? Download the Art Collector's Blueprint.

Now tell me where you like to decorate some of your favorite paintings!
Related Articles:
How to Choose the Right Art for Your Home
5 Inspiring Ways to Display Artwork in Your Home