How to Create the Perfect Gallery Wall
Let's be real! Gallery walls can be really tricky to create. They involve creating a nice balance of different works of art with the size, colors, shapes, and textures. But the final result, when done right, can end up being such a beautiful accomplishment.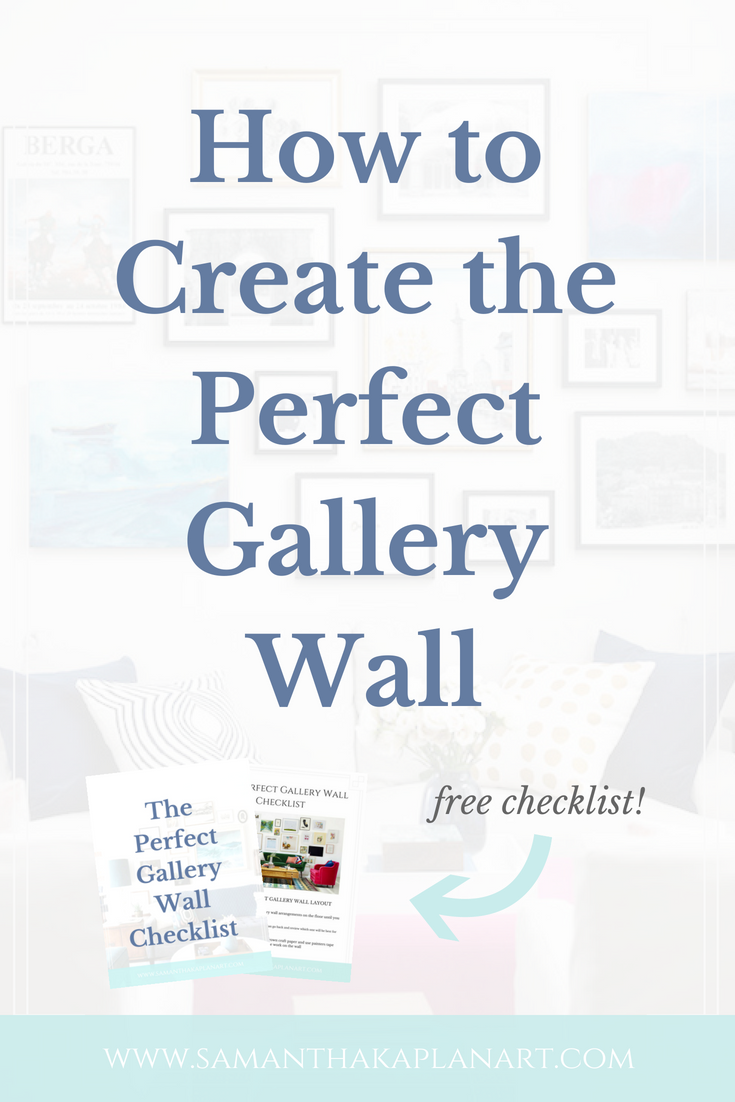 The beautiful aspects of creating a gallery wall are you can create an impact that embraces your personality and who you are through the different types of artworks that you choose to display. You can create a collection from your favorite artworks that you have collected over time. And remember, there is no one RIGHT way to create a gallery wall. Below, I will be explaining some of the best tips that I have learned so you can create the perfect gallery wall for your home.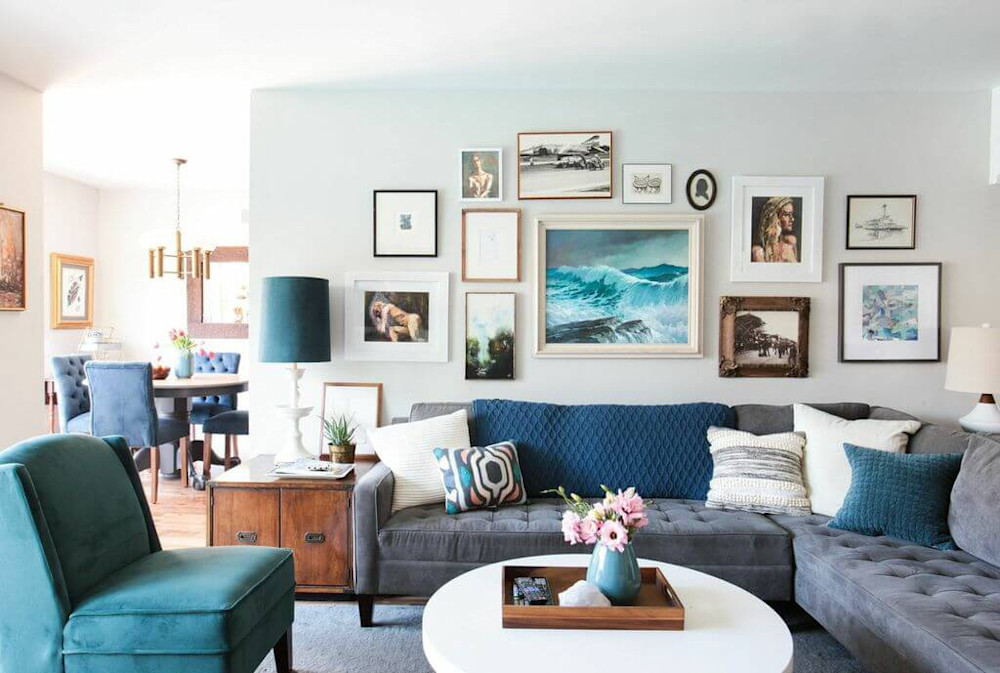 Source: Emily Henderson
When creating a gallery wall, you have the opportunity to combine several original paintings, drawings, prints, and can even include some framed objects that you love if it fits into the decor. You can hone in on your personal aesthetic and tell a story through the selection of paintings that you put together. You can also use these stories and experiences from each of the works as a way to share your personal story and style within your home.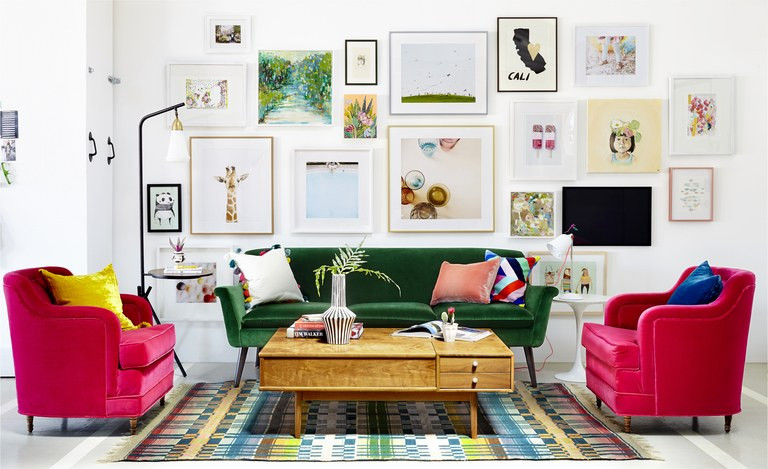 Source: Architectural Digest
It can be as simple or as complex as you want it to be. It can be a selection of works that you truly connect with or a selection of works that fit perfectly into the aesthetic of your home.
But before you continue, make sure to download the free Perfect Gallery Wall Checklist.

How to Create the Perfect Gallery Wall Layout
Most interior designers recommend that you play with a couple of layouts until you find the best one that will suit your gallery wall. The best way to experiment with that is to play with several variations of the framed work that you have on the floor. I personally recommend that you photograph each arrangement that you create, while you are experimenting so you can go back and review which one will be the best for your home.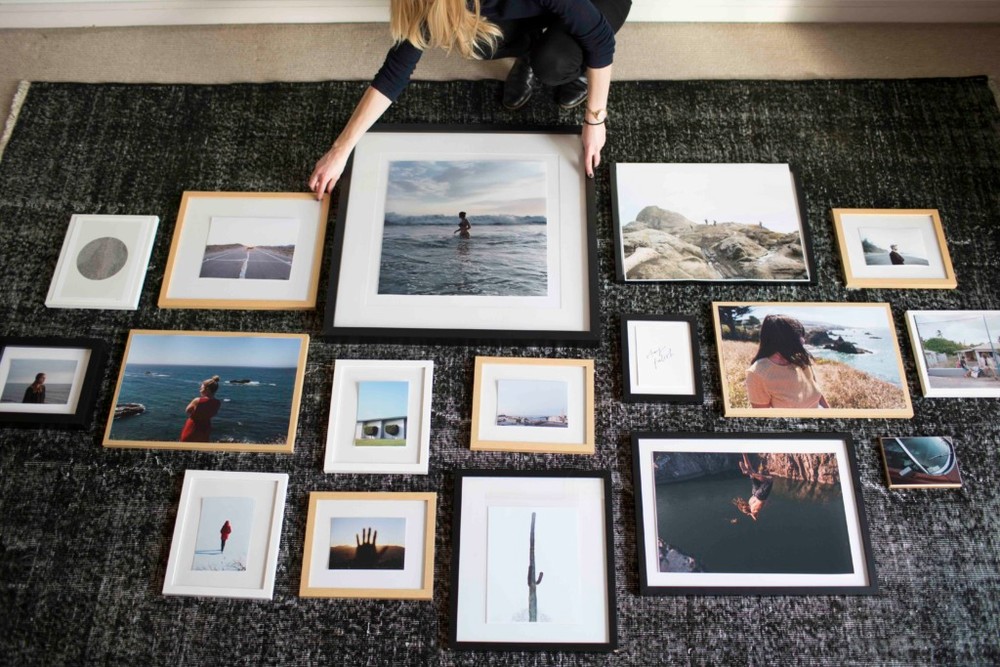 Source: Homepolish
You can also use painters' tape to map out the placement for each of the works. Essentially, you would be creating a template for your gallery wall. If it were up to me, I would trace the frames on brown craft paper, and use painter's tape to hold these pieces of paper in place on the wall so you can map out the placement of each work. And then you can avoid making a ton of holes in your walls while you're trying to get it right. (Once you're done, you can recycle that craft paper or use it for other projects ;)).

How to Create the Perfect Layout for an Organic, Asymmetrical Gallery Wall
This is probably my favorite type of gallery wall. It allows you to create a modern look and feel for your space and it gives you the freedom to experiment with color palettes and a mixture of frames to create that organic flow that will brighten up your walls.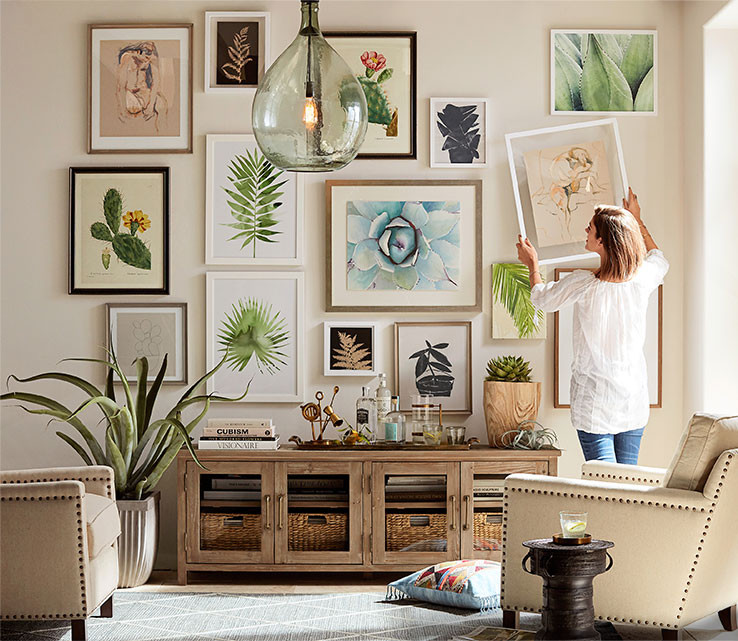 Source: Pottery Barn
When starting out, Emily Henderson, a stylist, author, and TV host, personally recommends in her article, "The Guide to a Well Hung Gallery Wall," that you start by anchoring your gallery wall with one large piece. She says that this is important because you need one large work that feels commanding.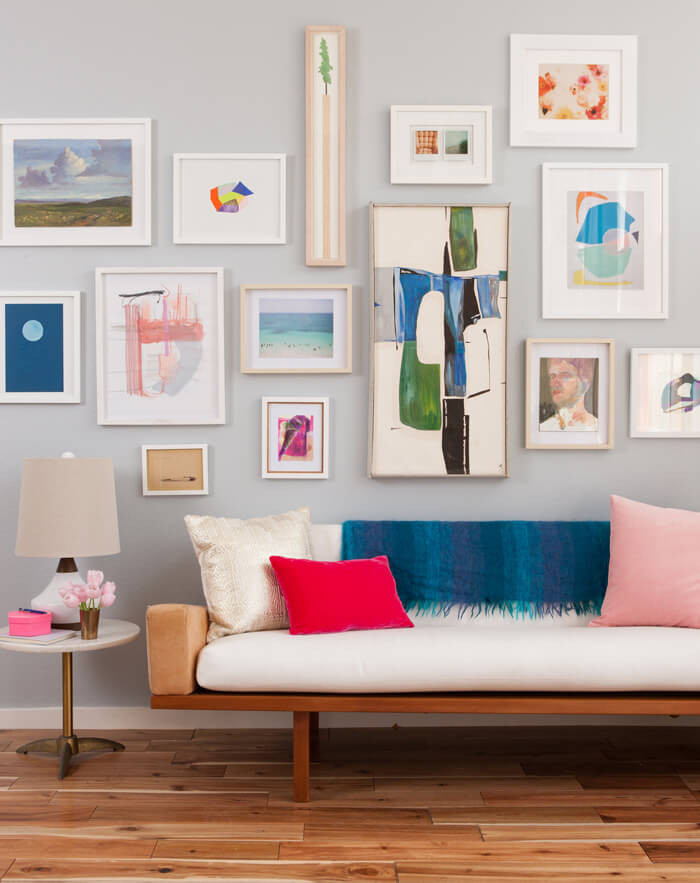 Source: Emily Henderson
Once you have that large painting to hold the collection in place, you can start styling and vary the sizes and the orientation of the art around the large painting. Emily Henderson recommends in her article to include works that are both horizontal, vertical, and even square to make it all feel balanced. It is even okay if you have works that are oddly shaped. They might actually fit nicely into this type of collection.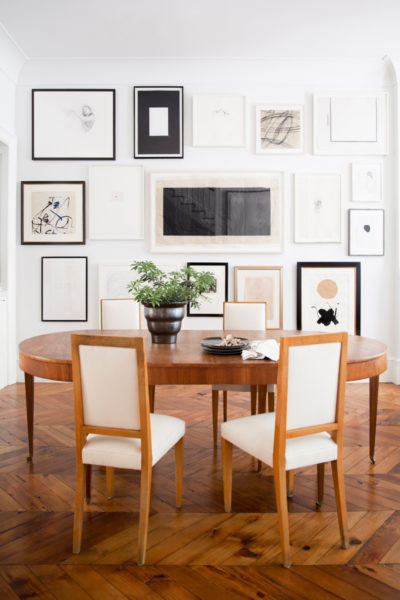 Source: The Chriselle Factor
Just make sure that you place each artwork at least 3 inches from each other. You don't want the works to feel too close or cramped by you also don't want them to appear too far away from each other.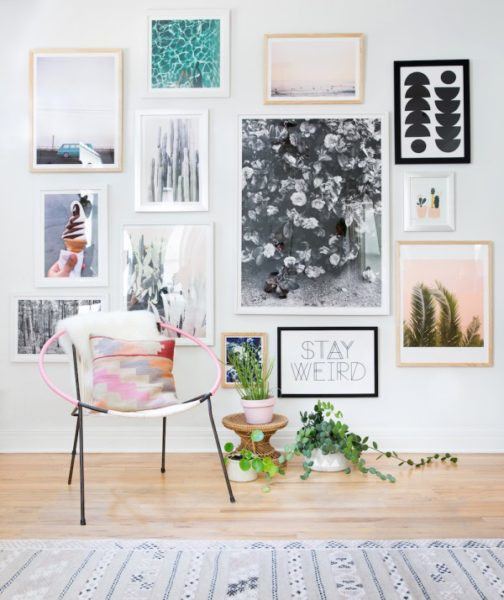 Source: The Karma Corner
How to Frame an Asymmetrical Gallery Wall:
I personally wouldn't get too OCD for framing an asymmetrical gallery wall. If you have beautiful works that are canvas, metal or are mounted on wood panels, you might not even need frames. Just try to stay consistent with the color palette that you choose to use for your framing so you can maintain a cohesive look. In the image below, you can see that Emily wanted a lighter color palette for her gallery wall, so she chose to use white frames and wood frames with a light finish.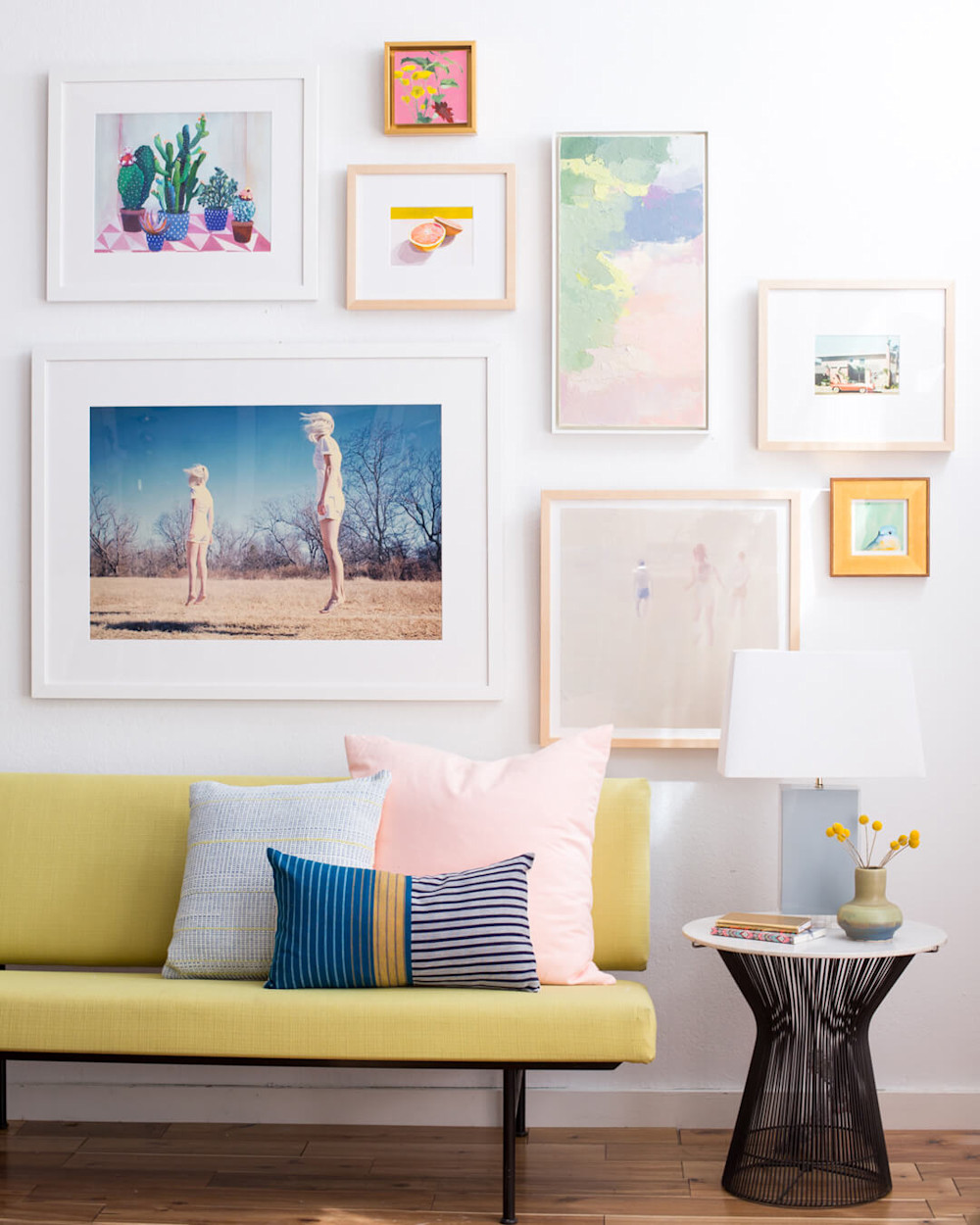 Source: Emily Henderson
If you choose to use a darker color palette for your frames (like blacks or browns), try to stick to only black or brown frames or colors with a darker finish, so it all fits nicely together.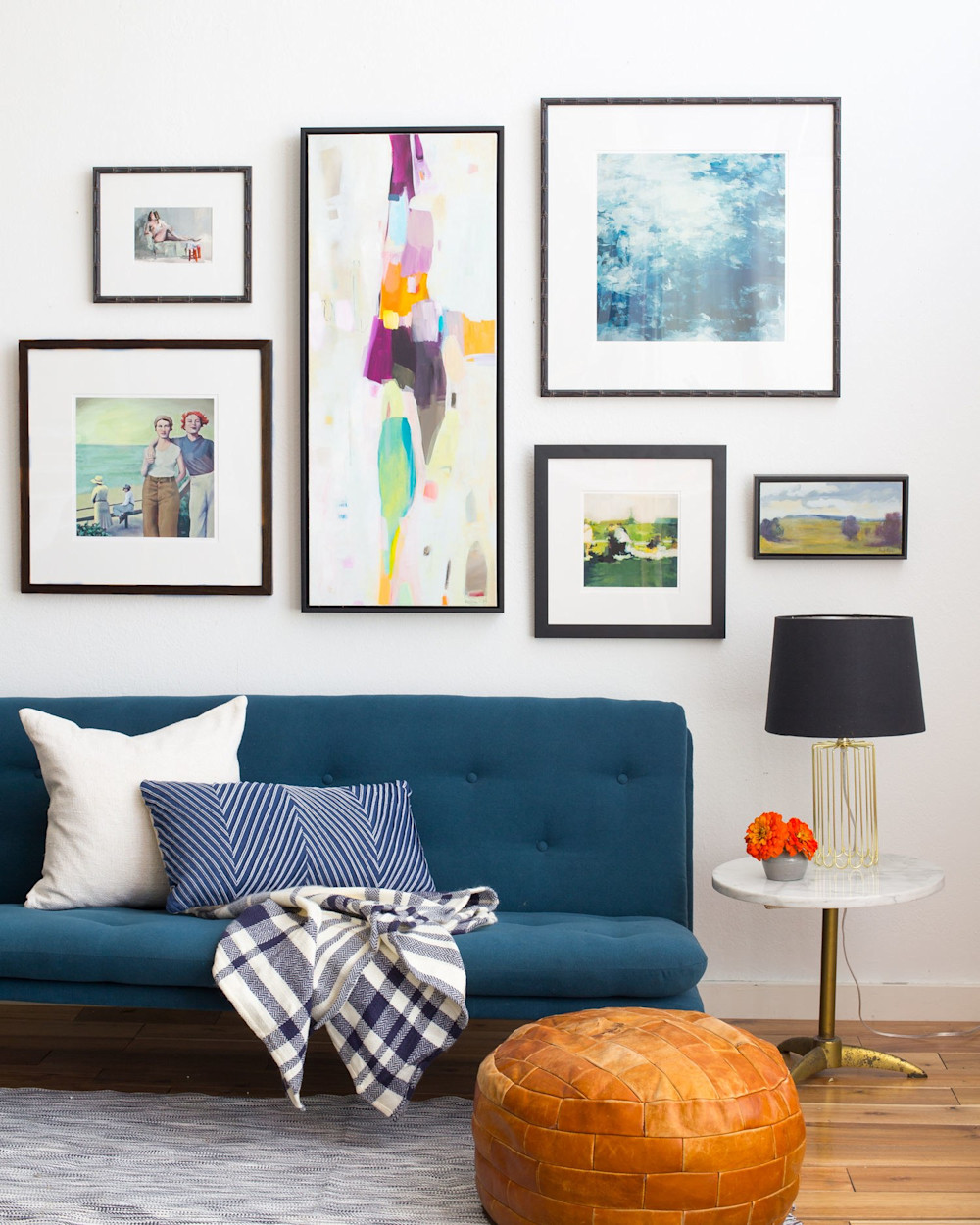 Source: Glamour
And remember, make sure that you choose a frame that best suits the work of art itself. It's entirely okay if some of the frames in your collection have slightly different widths and sizes, or even if they slightly vary in color. That might even add more character to your wall.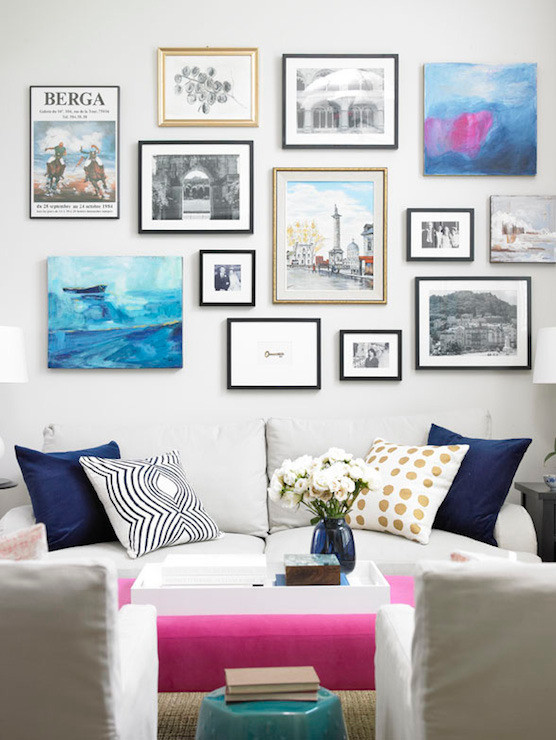 Source: Design Meet Style
How to Create the Perfect Layout for a Symmetrical Gallery Wall
A symmetrical gallery wall is perfect if you want to achieve more of a formal or traditional appearance. If you truly want a perfectly symmetrical arrangement, I would personally recommend collecting pieces that are the same size and using the same exact frames for your gallery wall to keep them consistent. In this instance, you might want to collect several of the same types of works, whether it is paintings, prints, drawings, or photographs. In this kind of arrangement, our eyes are looking for that consistency so try to choose works that meet that standard.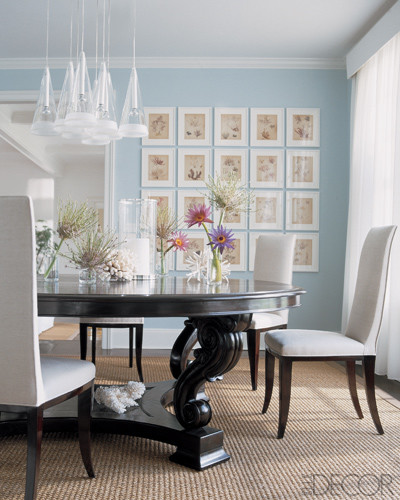 Source: Elle Decor
And as I mentioned earlier, try to place each artwork at least 3 inches away from each other, so it doesn't feel too cramped.

How to Frame a Symmetrical Gallery Wall:
As I mentioned before, I would personally recommend using the same exact frames for each of the works for a symmetrical gallery wall to maintain that consistent look. If you want to create a pattern, you can experiment with two colored frames and have every other frame be that specific color. You just want to make sure that it looks intentional, so the wall doesn't look off-putting.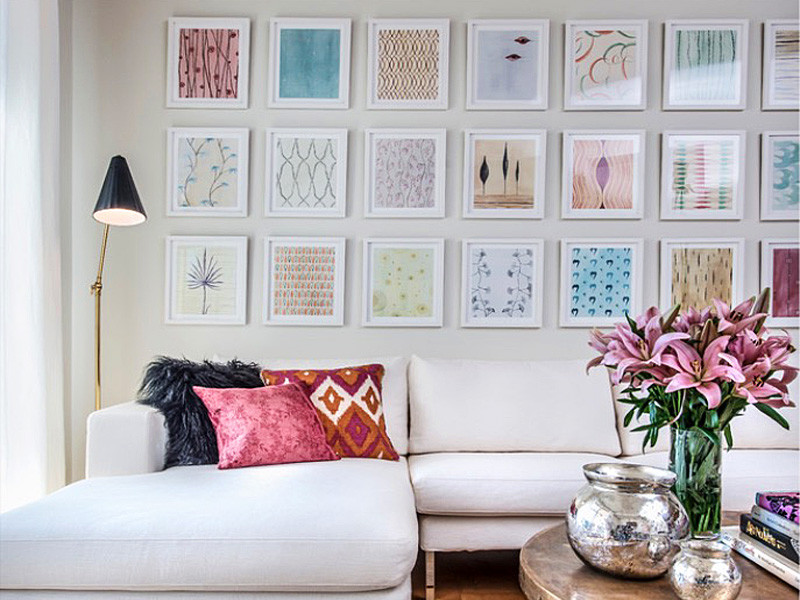 Source: Freshome
For each of these types of gallery walls, try to keep the series of work at eye level. If you decide to install the artwork over the furniture, consider leaving at least 8 inches between the bottom of the frame or the top of the furniture.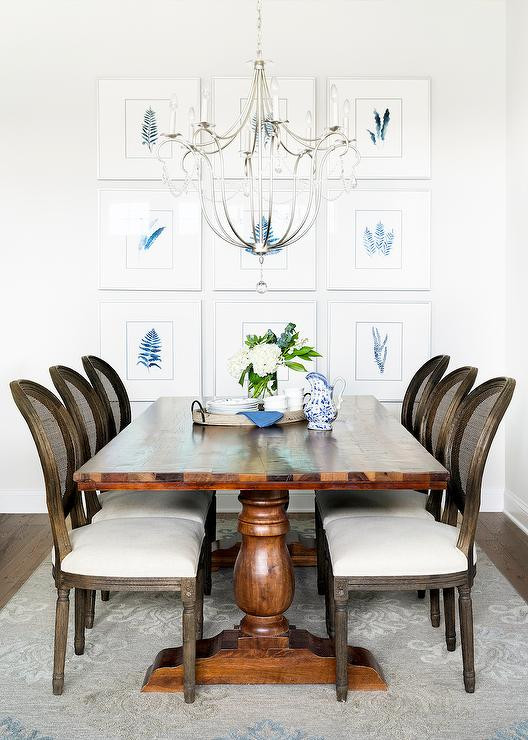 Source: Decor Pad
And just remember that a gallery wall can take time. You truly want to love the wall that you create so don't try to rush the process. Start planning with the works that you have collected so far. Ask yourself if there is a specific color palette or theme within the works that you already own. And do you naturally lean towards a particular palette or aesthetic?
Would you like to learn more? Download the free Perfect Gallery Wall Checklist.

Related Articles:
How to Choose the Right Art for Your Home
7 Inspirational Places to Decorate Your Home with Art
5 Inspiring Ways to Display Artwork in Your Home